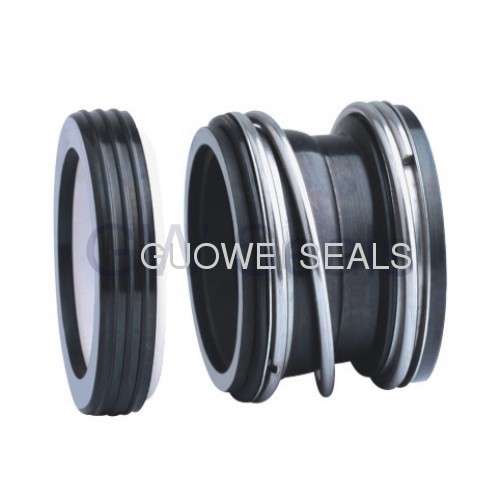 Specifications:
OPERATING LIMITS
Temperature: -40°C~+150°C
Pressure: ≤1.0MPa
Speed: ≤15m/s
MATERIAL
Stationary Ring (SiC/TC/Ceramic)
Rotary Ring (SiC/TC/Carbon)
Secondary Seal (VITON/PTFE/PTFE+VITON)
Spring & Other Parts (SS304/SS316)


rubber bellow seal.
High quality in and Economicalseal
It is an excellent choice for water, beer and other beverage.and any light duty appliction where supplerior , reliable performance is expected.

We specialize in design and manufacturer the complicated and corrosive media, high temperature, high speed, high press etc mechanical seals according to clients requested. The series of high performance mechanical seals for Petroleum Equipment, such as chemical process pump, oil and gas, petrochemicals pump, mixer, agitator, compressor, etc.

| | | | | | | | |
| --- | --- | --- | --- | --- | --- | --- | --- |
| Metric Size | D1 | D2 | D3 | L1 | L11 | L12 | L2 |
| 10 | 21.0 | 17.0 | 20.0 | 13.4 | 25.9 | 33.4 | 6.6 |
| 12 | 23.0 | 19.0 | 22.0 | 14.4 | 25.9 | 33.4 | 6.6 |
| 14 | 25.0 | 21.0 | 24.0 | 14.4 | 28.4 | 33.4 | 6.6 |
| 15 | 27.0 | 23.0 | 25.0 | 14.4 | 28.4 | 33.4 | 6.6 |
| 16 | 27.0 | 23.0 | 26.0 | 14.4 | 28.4 | 33.4 | 6.6 |
| 18 | 33.0 | 27.0 | 32.0 | 18.5 | 30.0 | 37.5 | 7.5 |
| 20 | 35.0 | 29.0 | 34.0 | 18.5 | 30.0 | 37.5 | 7.5 |
| 22 | 37.0 | 31.0 | 36.0 | 18.5 | 30.0 | 37.5 | 7.5 |
| 24 | 39.0 | 33.0 | 38.0 | 18.5 | 32.5 | 42.5 | 7.5 |
| 25 | 40.0 | 34.0 | 39.0 | 18.5 | 32.5 | 42.5 | 7.5 |
| 28 | 43.0 | 37.0 | 42.0 | 24.5 | 35.0 | 42.5 | 7.5 |
| 30 | 45.0 | 39.0 | 44.0 | 25.5 | 35.0 | 42.5 | 7.5 |
| 32 | 48.0 | 42.0 | 46.0 | 25.5 | 35.0 | 47.5 | 7.5 |
| 33 | 48.0 | 42.0 | 47.0 | 25.5 | 35.0 | 47.5 | 7.5 |
| 35 | 50.0 | 44.0 | 49.0 | 26.5 | 35.0 | 47.5 | 7.5 |
| 38 | 56.0 | 49.0 | 54.0 | 29.0 | 36.0 | 46.0 | 9.0 |
| 40 | 58.0 | 51.0 | 56.0 | 29.0 | 36.0 | 46.0 | 9.0 |
| 43 | 61.0 | 54.0 | 59.0 | 29.0 | 36.0 | 51.0 | 9.0 |
| 45 | 63.0 | 56.0 | 61.0 | 29.0 | 36.0 | 51.0 | 9.0 |
| 48 | 66.0 | 59.0 | 64.0 | 31.0 | 36.0 | 51.0 | 9.0 |
| 50 | 70.0 | 62.0 | 66.0 | 30.5 | 38.0 | 50.5 | 9.5 |
| 53 | 73.0 | 65.0 | 69.0 | 29.0 | 36.5 | 59.0 | 11.0 |
| 55 | 75.0 | 67.0 | 71.0 | 29.0 | 36.5 | 59.5 | 11.0 |
| 58 | 78.0 | 70.0 | 78.0 | 32.0 | 41.5 | 59.5 | 11.0 |
| 60 | 80.0 | 72.0 | 80.0 | 34.0 | 41.5 | 59.5 | 11.0 |
| 65 | 85.0 | 77.0 | 85.0 | 34.0 | 41.5 | 69.0 | 11.0 |
| 68 | 90.0 | 81.0 | 88.0 | 33.7 | 41.2 | 68.7 | 11.3 |
| 70 | 92.0 | 83.0 | 90.0 | 33.7 | 48.7 | 68.7 | 11.3 |
| 75 | 97.0 | 88.0 | 99.0 | 40.7 | 48.7 | 68.7 | 11.3 |
| 80 | 105.0 | 95.0 | 104.0 | 40.5 | 48.0 | 78.0 | 12.0 |
| 85 | 110.0 | 100.0 | 109.0 | 38.5 | 46.0 | 76.0 | 14.0 |
| 90 | 115.0 | 105.0 | 114.0 | 38.5 | 51.0 | 76.0 | 14.0 |
| 95 | 120.0 | 110.0 | 119.0 | 38.5 | 51.0 | 76.0 | 14.0 |
| 100 | 125.0 | 115.0 | 124.0 | 38.5 | 51.0 | 76.0 | 14.0 |