CNC hydraulic press brake machine
ZYMT Factory Aerial View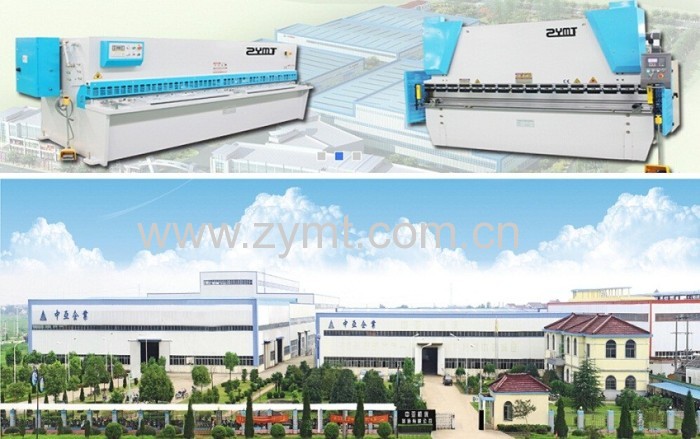 ZYMT Factory Processing Equipment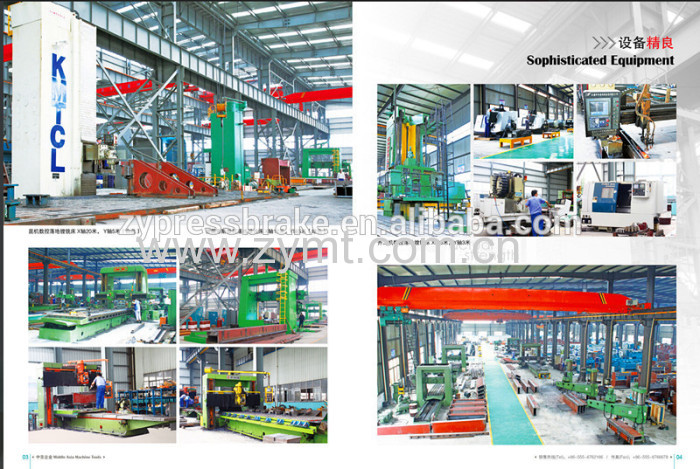 ZYMT Company Certificate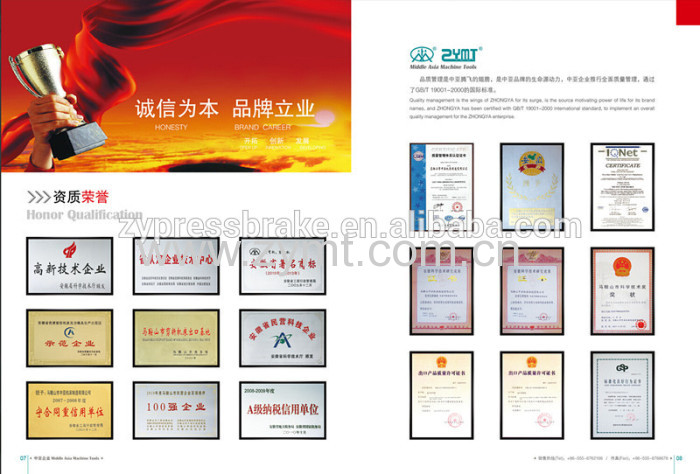 Standard Parts for CNC Press Brake
No.

Parts Name

Brand

Brand Location

1

Control System

DELEM DA52S

Holland

2

Servo motor and drive

Estun

Nanjing China

3

Hydraulic System

HOERBGER/BOSCH

Germany

4

Ball bearing lead screw

HIWIN

Taiwan

5

Straight-line guide

HIWIN

Taiwan

6

Connector

EMB

Germany

7

Seal ring

FIETZ/VALQUA

Germany/Japan

8

Raster Ruler

Heidemhain

Germany

9

Main electrical elemeents

TE/OMROM/SIEMENS

10

Standard axes

Y1,Y2,X and V(V for crowing table)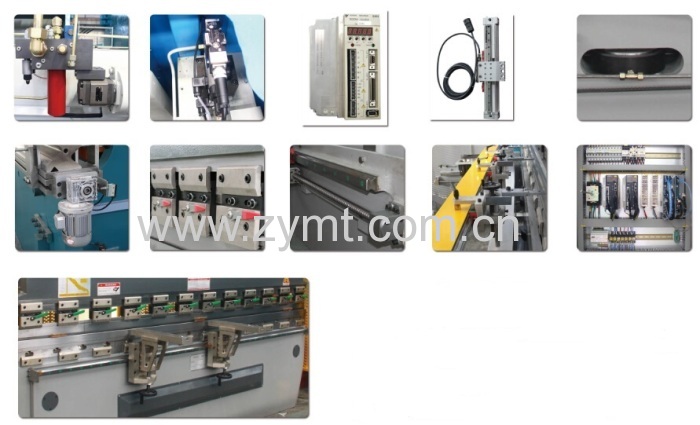 Opitional Equipments for CNC Press Brake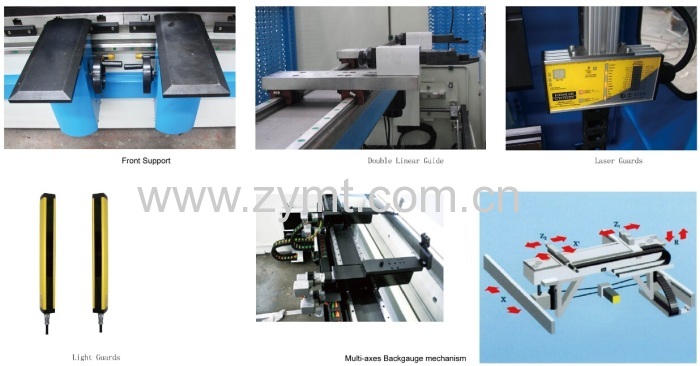 Machine General Parameters for CNC Press Brake
Type

Nominal Force

(KN)

WorktableLength

(mm)

Vertical Distance

(mm)

Throat Depth

(mm)

Stroke

(mm)

Max Open

(mm)

Power

(kw)

X-travel

(mm)

X-speed

63T/2500

630

2500

1900

350

170

380

5.5

500

200mm/s

100T/3200

1000

3200

2700

400

200

420

7.5

125T/3200

1250

3200

2700

400

200

420

11

160T/3200

1600

3200

2700

400

200

420

11

200T/3200

2000

3200

2700

400

200

420

15

250T/3200

2500

3200

2700

400

200

420

15

300T/3200

3000

3200

2700

400

200

420

22

400T/4000

4000

4000

3500

400

320

420

30

500T/6000

5000

6000

4900

500

320

600

37

800

600T/6000

6000

6000

4900

500

320

600

45

800T/6000

8000

6000

4900

600

400

600

55

800T/8000

8000

8000

5900

600

400

600

55

1000T/6000

10000

10000

4900

600

400

600

2×37

1000T/8000

10000

10000

6900

600

400

600

2×37

1000T/1000

10000

10000

8000

600

400

600

2×37
Packaging and Shipping

1.Before packing, the machine tool will be testing for 48 hours to ensure all the equipment is 100% qualitied.
2.Before loading, stable package, professional and skilled loader reduce damage of product during transport.
3.After loading, our professional documentary staff will follow the order till the product departs from port.
Quality Guarantee and After-sales Service
1.Shearing blades and accessories-Customized to your specifications. In our shearing blades, our focus is on first-class, practical, well-thought-out upper and lower tools. Our tools offer solutions to your application cases-even for complex technical ones.
2.Service package
Basic: we offer you rapid trouble shooting through telephone support and costs for on-site missions are reduced.
Special: Engineers available to service machinery overseas for the necessary maintenance.
Partner: Our located dealers or customers who sell or use our machines are fully behind you, they are our friendly partner and supply good advice to you.
3.Technical Service(After-sale service)
Installation and start-up(Available for complex and big machines or if you have demand)