our company

Product description
The whole structure of the hydraulic press brake:

Welded structure: the stress of the welded parts can be eliminated by vibration; so this forging press gives high accuracy.

Frame: consists of right and left wall boards, working table, oil box, slot steel and etc. The stress of the welded parts can be eliminated by vibration. The machine enjoys high accuracy and high strength and can be transported easily.

High accuracy,high efficiency,simple and convenient operation,good performance, favorable price and best service.


1. Hydraulic system:

Adopt integrated hydraulic control system, more reliable

Be installed at the top of the oil box, which can assure that the cylinder is always full of oil when the slide is moving down at high speed

Consist of motor, oil pump and valve groups

Complete working cycle can be realized through the control of hydraulic valve.

The working pressure at the right side of the wall board can be adjusted by the remote adjustment valve


2. Protective fence and the safety interlock


Protective fence and the safety interlocker to ensure the operation safety. Power supply switch that is set in the electric box will be automatically turned off when the box's door is opened or the fence is turned up. Protecting barrier with safety interlocker is mounted on the back of the machine. Another, there are travel limit protection and foot pedestal mounted emergency off switch.

3.Synchro control system:


Slide syncho system: adopt steel torsion bar synchro system, simple in structure and high in accuracy

2 ends of slide has 2 synchro fork which make,The system uses upper die compensation to improve the brake precision.

Adopt upper die compensation to improve the brake precision

4. Sectional Ram Clamp Bars:


Separate sectional clamping bars are supplied as standard equipment in order to securely fasten short dies, as well as standard length tooling. Unique crown correcting device is standard.

5. Advance technology and procedures:

This metal machining tool is a kind of steel torsion bar synchro press brake. -Electronic control of back gauges and ram stroke, data displayed and manual setting

Process of cylinder and sealing component:
Cylinder: no.45# steel treated, inner holes fine machined and extruded.
Valve rods: no.45# steel treated, nickel and phosphorous coated outside.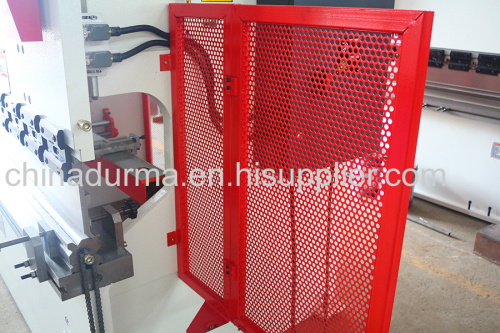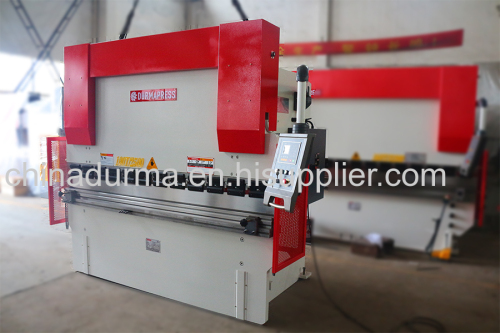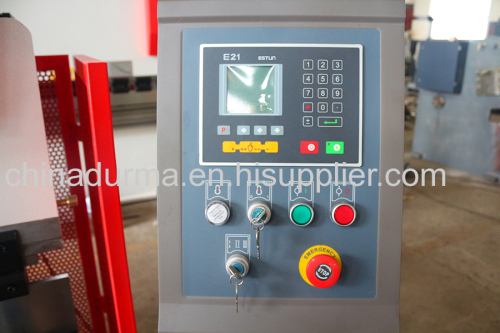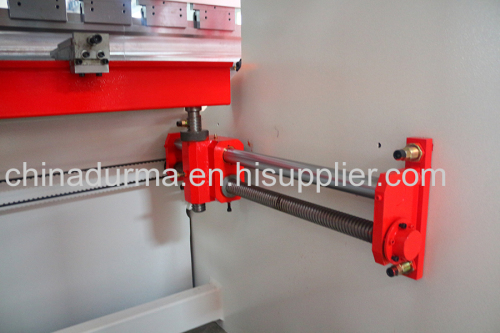 Certification
our customer

Our Service
1 We have more than ten years of experience in the production of machine tools, and we have a good team for your service

2. We have strict quality control system.

3.We accept OEM&ODM according to your requirement.

4.We will deliver as soon as possible once place the orders.

5.You can contact us at any time .

We can manufacture all kinds of the machines, if you have any request, please contact us soon. Feel free to email me, we will reply you within 12 hours.

RFQ
Q:How about your machine quality?
A:Our machines distribute worldwide to about 50 countries where there are metal plate industry ,there are Brillante machines.And where there are our machines,there are good reputation and terminal user satisfaction.

Q:The machine price can be more discount?
A: We think about our price level,we are sure to provide quality=price and pice=quality ,the matched price and acceptable for the clients and durable for our machines.We welcome your negotiate with us and get a good satisfaction. and Increase the order quality or long-term cooperation in the future will get our discount.

Q: Where is your factory?
A:We located in Ma'anShan City, Our factory is particularly close to Nanjing, about an hour, if you are to visit the factory .We can pick you up at the airport.Welcome to visit our factory!
Warranty
Our guarantee time is 5 years from B/L date. If any component is damaged during guarantee time, we can send the component to the customer by DHL, TNT freely.

Our factory can send our engineer to the customer's factory install, commission and training freely. The customer provide the double trip tickets, food and accommodation for our engineer. The customer also can send the engineer to our factory to learn the operation and maintains freely.

Our factory provide the service for the customer forever, if the customer need operation help, can contact us by wechat, Skype, Email , whatsapp and Telephone at any time, we provide 24 hours on-line service.