The importance of high quality connector mold parts
Product details
Product name:connector mold parts
Product size: customization
Material:Japan(SKD11.SKD61.SKH51.S45C)
USA(AISA.D2.H13.P20.M2)
Germany(DIN.2379.2363.2344.2347)
ASSAB(Rigor.Stavax.Impax.Elmax.ASP23)
Hardness:58-60 HRC
Grinding precision:0.001mm
Electric discharge processing precision:0.002mm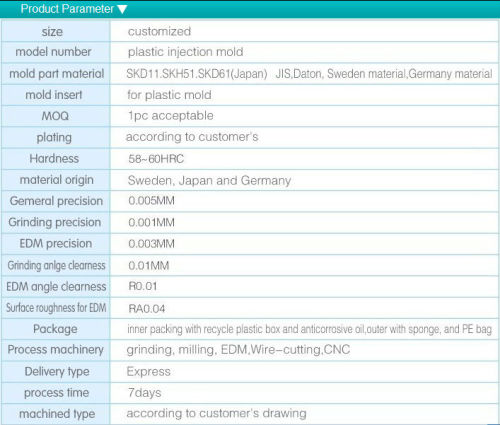 Today let's probe into the importance of high quality connector mold parts.In the production of die and mold parts,connector parts are very important,and it's play an important role in the development and progress of the mold parts.
In order to produce a high quality connector mold parts,so that more customers to select precision connector mold.Yi Ze mold constantly enhance the level of self development capacity.
Connector mold parts are parts of the mold parts products,but the professional production need high precision,so the relevant supporting the production of mold has become an independent industry.Connector mold industry is a completely independent,but also services to the connector,it's an important type of production,but also an important part for industrial production of modern.
Dongguan Yi Ze mold of connector mold parts development and progress will be mold parts using the major reform and progress,for the development of our mould parts laid the good foundation,provides great convenience for our life.High quality connector mold parts wholesale,connector mold parts manufacturers,welcome to consult Yi Ze mold.
partforu01 recommend you connector mold parts
Contact Yize Mould
Dongguan YIZE MOULD Co.,LTD
Custom mold spare parts factory Address: Hexing Road No.122, South Shatou District, Chang'an Town, Dongguan City, Guangdong Province