Loading Arm
Our loading arm is especially designed for loading and unloading liquids from railcars and tank truck.
The type of land loading arm is divided into top loading arm and bottom loading arm.Our loading arm can be customized as the requirements of customer, characteristics of liquids, local conditions etc.
Equipped with loading platform, folding stairs and safety cage to make the loading arm into a complete loading system.
Product Features
Double base swivel joints are made of carbon steel, stainless steel ASTM304 or ASTM316.

PTFE seal rings ensure no leakage.

Balancing of the arm is made by a spring balance cylinder.

Be able to move along with road tanker during loading within normal range.

High quality surface treatment and coating make loading arms have excellent weather-resistance.

Numerous accessories are available to make a loading arm more effective and safety.
AL2543 bottom loading arm
AL2543 bottom loading arm is a typical type arm for loading & unloading, mainly for products such as LPG, liquid ammmonia, liquefied gas, etc. This type of loading arm usually connect to the tanker by flanges or quick couplings, and it has good sealing performance.
Design Parameters
Nominal Diameter

Liquid pipe: DN50~DN80 (2", 3")

Vapor pipe: DN25~DN50 (1", 2")


Design Pressure
-0.06MPa~5.0MPa
DesignTemperature
-196°C~+250 °C
Balancing Method
Spring balance cylinder
Pipeline Material
Carbon steel, Stainless steel, PTFE-lined.
Service Product
Crude oil, Refined oil products (petroleum, diesel, aviation kerosene, ect. ) and chemicals
AL2543 Structure Drawing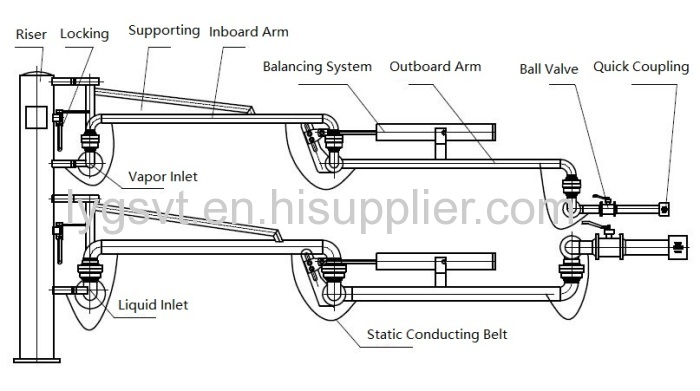 Packaging & Shipping