Introduction of roller chain:
Roller chain is a chain for transmitting the mechanical power, and widely applied in home, industrial and agricultural machinery, including conveyors, printers,cars and bikes, etc. It's jointed via a series of short rollers and driven by a sprocket.It's a simple, reliable high-efficiency power transmission device.
Components:
Roller chain consists of rollers, sleeves, pins, inner and outer chain plates.
Technical Parameters:
ISO
ANSI
Pitch
Roller
Pitch
Pin
Pin
Row distance
Chain plate
Average tensile load
Weight
Chain No.
Chain No.
Dia.
Width
Dia.
Length
Thickness
/meter




P
d1
b1
d2
L
Pt
T
-
q




max
min
max
max
Q
≈




mm
mm
mm
mm
mm
mm
mm
KN
Kg/m
*04C-1
25
6.35
3.3
3.1
2.31
8
-
0.8
4.4
0.14
*06C-1
35
9.525
5.08
4.68
3.58
12.4
-
1.3
10.4
0.33
085-1
41
12.7
7.77
6.25
3.58
13.75
-
1.25
11.8
0.41
08A-1
40
12.7
7.95
7.85
3.96
16.6
-
1.5
17.8
0.62
10A-1
50
15.875
10.16
9.4
5.08
20.7
-
2
28
1.02
12A-1
60
19.05
11.91
12.57
5.94
25.9
-
2.44
39
1.5
16A-1
80
25.4
15.88
15.75
7.92
32.7
-
3.26
71.5
2.6
20A-1
100
31.75
19.05
18.9
9.53
41.1
-
4
102
3.91
24A-1
120
38.1
22.23
25.22
11.1
50.8
-
4.8
156.9
5.62
28A-1
140
44.45
25.4
25.22
12.7
54.9
-
65.65
210.8
7.5
32A-1
160
50.8
28.58
31.55
14.27
65.5
-
6.45
269.7
10.1
36A-1
180
57.15
35.71
35.48
17.46
72.8
-
7.25
327.8
13.45
40A-1
200
63.5
39.68
37.85
19.85
80.3
-
8
410
16.15
48A-1
240
76.2
47.63
47.35
23.81
95.5
-
9.5
585.4
23.2
*04C-2


6.35
3.3
3.1
2.31
14.5
6.4
0.8
8.8
0.28
*06C-2
Feb-35
9.525
5.08
4.68
3.58
22.5
10.13
1.3
20.8
0.63
08A-2
Feb-40
12.7
7.95
7.85
3.96
31
14.38
1.5
35.6
1.12
10A-2
Feb-50
15.875
10.16
9.4
5.08
38.9
18.11
2
56
2
12A-2
Feb-60
19.05
11.91
12.57
5.94
48.8
22.78
2.44
82.4
2.92
16A-2
Feb-80
25.4
15.88
15.75
7.92
62.7
29.29
3.26
143
5.15
20A-2
100-2
31.75
19.05
18.9
9.53
76.4
35.76
4
204
7.8
24A-2
120-2
38.1
22.23
25.22
11.1
96.3
45.44
4.8
313.8
11.7
28A-2
140-2
44.45
25.4
25.22
12.7
103.6
48.87
5.65
421.7
15.14
32A-2
160-2
50.8
28.58
31.55
14.27
123.3
58.55
6.45
539.4
20.14
36A-2
180-2
57.15
35.71
35.48
17.46
138.6
65.84
7.25
655.7
29.22
40A-2
200-2
63.5
39.68
37.85
19.85
151.9
71.55
8
820
32.24
48A-2
240-2
76.2
47.63
47.35
23.81
183.4
87.83
9.5
1170.8
45.23
*06C-3
Mar-35
9.525
5.08
4.68
3.58
32.7
10.13
1.3
30
1.05
08A-3
Mar-40
12.7
7.95
7.85
3.96
45.4
14.38
1.5
51.2
1.9
10A-3
Mar-50
15.875
10.16
9.4
5.08
57
18.11
2
82
3.09
12A-3
Mar-60
19.05
11.91
12.57
5.94
71.5
22.78
2.44
115
4.54
16A-3
Mar-80
25.4
15.88
15.75
7.92
91.7
29.29
3.26
208
7.89
20A-3
100-3
31.75
19.05
18.9
9.53
112.2
35.76
4
310
11.77
24A-3
120-3
38.1
22.23
25.22
11.1
141.7
35.44
4.8
470.7
17.53
28A-3
140-3
44.45
25.4
25.22
12.7
152.2
48.87
5.65
632.5
22.2
32A-3
160-3
50.8
28.58
31.55
14.27
191.8
58.55
6.45
809
30.02
36A-3
180-3
57.15
35.71
35.48
17.46
204.4
65.84
7.25
983.6
38.22
40A-3
200-3
63.5
39.68
37.85
19.85
223.5
71.55
8
1230
49.03
48A-3
240-3
76.2
47.63
47.35
23.81
271.3
87.83
9.5
1756.2
71.6
Product Show: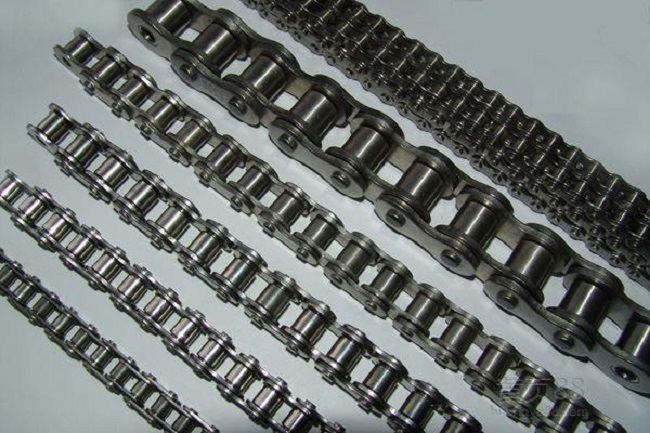 Roller chains for parking system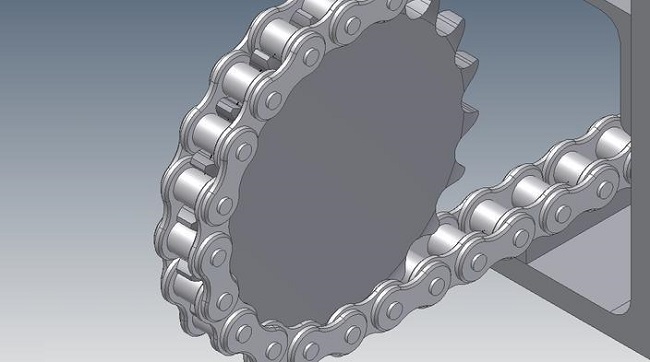 Roller chain and sprocket drive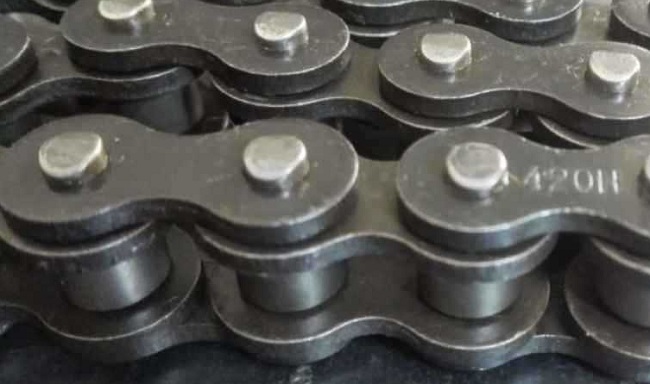 Surface treated roller chain for garage