Spiral corrugated culvert pipe forming machine
Advantage:

1. High strength, because of its unique corrugated structure to make it than the diameter of the cement pipe pressure strength greater than 15 times.
2. Convenient transportation, the weight of corrugated pipe only with the diameter of cement pipe 1/10 to 1/5, even in a narrow place without transport equipment, artificial transport.
3. Long service life, steel corrugated pipe is hot-dip galvanized steel pipe, so long life, life expectancy of 80-100 years, in the use of particularly corrosive environment, the use of internal and external surface asphalt Steel bellows, can be based on the original service life increased by about 20 years.
4. Construction convenience: bellows culvert is the use of sleeve or flange connection, and can be customized according to the needs of length, even unskilled workers can also operate, the construction of a small amount of manual operation can be completed in a short time, both fast and Convenience.
5. Excellent economy: simple connection, can shorten the duration.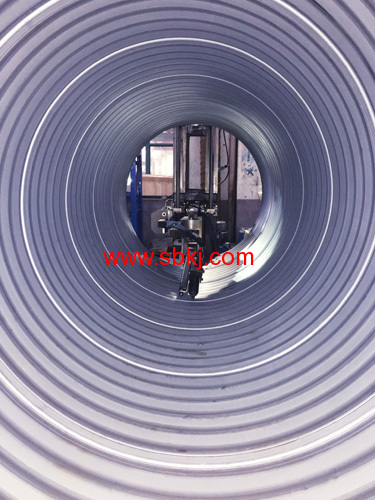 Technical Data
| | | | |
| --- | --- | --- | --- |
| Type | SBHCSP-I | SBHCSP-II | SBHCSP-III |
| Thickness | 1.2-2.0mm | 2.0-3.0mm | 2.2-3.4mm |
| Corrugate | 38*6.5mm | 68*13mm | 75*25mm |
| Diameter | ∅300-1000mm | ∅500-1700mm | ∅1000-3000mm |
| Power | 30kw | 55kw | 75kw |
| Cutter system | Plasma cutter | Plasma cutter | Plasma cutter |