Wellhead Riser Spool 18 3/4" x 15K Flange to Flange
Riser Spool / Spacer Spool for Wellhead Service 18 3/4" x 15K x 1M Length
Introduction of the Wellhead Riser Spool / Spacer Spool
The Riser spool, conformed with API 6A, have flange end connectors of the same size,
and rated working pressure. The Spacer spools / Riser spools are wellhead sections
which have no provision for suspension of tubular members and which may
have no provision for sealing of tubular members.
Features of the Riser Spool

Characters of wellhead Riser spool
1)Made of high-strengh alloy and processed specially with heating treatment.
2)Designed and manufactured according to API 6A technical specifications.
3)Fit for Hydrogen sulfide H2S resistant service, manufactured with reference to NACEMR-0175 technical pecifications.
4)Top & bottom connections are as per customer design requirements by either flanged or clamp connections.
Detailed specification of the Riser Spool in 18 3/4"
No.
Description
1
Riser Spool 18.3/4" 15K, BX-164 x 18.3/4" 15K BX-164
flange to flange, 1 m length
2
Riser Spool 18.3/4" 15K, BX-164 x 18.3/4" 15K BX-164 flange to flange, 2 m length
3
Riser Spool 18.3/4" 15K, BX-164 x 18.3/4" 15K BX-164 flange to flange, 3 m length
Note: All raisers c/w Ring Gasket Stainless Steel & Stud & Nuts B7, with 9 Ton Padeyes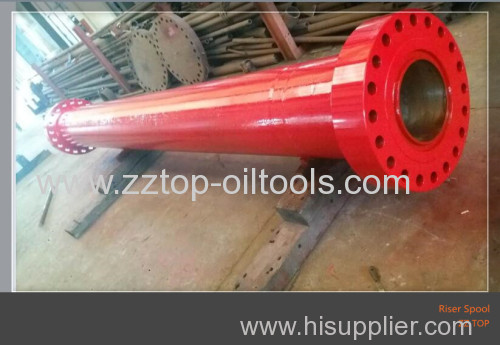 ZZ TOP's facility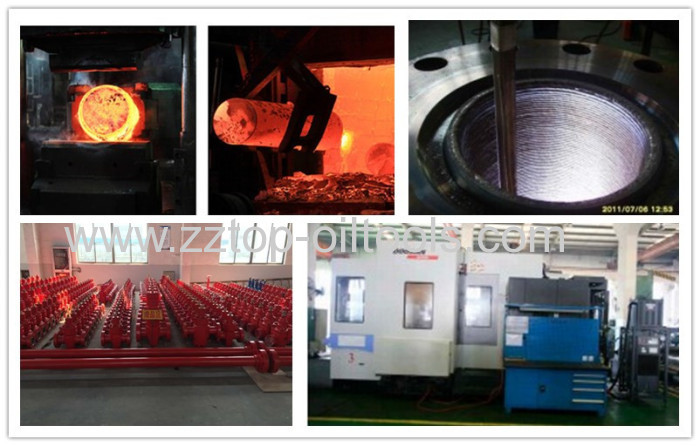 ZZTOP is the experienced and expertized manufacturer for wellhead equipment, provides cost effective wellhead equipment in a wide range of pressure and sizes available to accommodate most casing sizes, which are designed complying with API-6A specification levels and performance requirements for land, platform drilling and completion applications, we also offer industry accepted primary and secondary seals, as well as tubing hangers with resilient or metal to metal seals.
The main products include X-mas tree, Choke manifold, kill manifold, drilling spool, adapter spool,Riser spool/Spacer spool, casing head, tubing head, DSA and other related gate valves & flanges. .
Wellhead Riser Spool 18 3/4" x 15K Flange to Flange
Riser Spool / Spacer Spool for Wellhead Service 18 3/4" x 15K x 1M Length