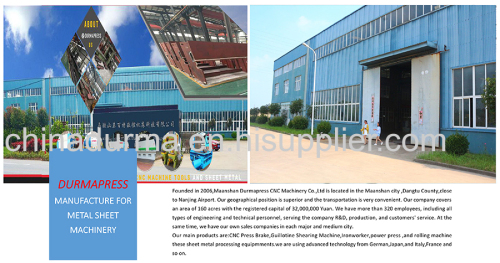 1. Main Features:
Brand-new industry design integrated with modern aesthetic concept, high-quality
fabrication technology with simple and elegant appearance.
Latest high-frequency responding hydraulic control technology, higher speed, more
efficient, higher precision.
Heat treatment of the rack, rigidity optimization verification of entire machine, research
and application of hydraulic compensation mechanism jointly guarantee bending
precision of MB8 series Press Brakes.
Optimal ratio of parameters and top-level core configuration ensure stable performance,
easy operation.
MB8 standard 2 axis backgauge system, as to complex shape work pieces, 4 or 5 axes
back gauge system and corresponding dies are available for bending of complicated
shaped workpieces.
Press Brake using closed-loop electro-hydraulic servo control technology, slider position
signals can be feedback to NC system by bilateral gratings, then NC system adjusts the
amount of fuel tank by changing the synchronous valve opening size, hereby controlling
the slider (Y1,Y2) running with same frequency, maintaining the parallel state of the
worktable.
As for different plate, CNC system can automatically control the table deflection
compensation resulting in uniform length of all workpiece angles.
The use of hydraulic deflection compensation gives access to uniform full length
workpieces . Hydraulic deflection compensation consists of a set of oil cylinders,
which can make the table occurs relative movement and form an ideal convex curve,
ensuring the relative position relationship with slider keep unchanged. Compensation
values are subject to plate thickness and properties of material to be cut.
2. Main Configuration:
Holland DELEM DA66T CNC controller
Grating ruler controls depth of Y1 and Y2 axis( y1 / y2-axis 0.01mm )
Servo motor drive and control X axis(X-axis 0.05mm ), manually adjusts R axis movement
up and down, stopping finger easily move along the cylindrical guide rail
Maintain the accuracy of HIWIN ball screw and linear guide of 0.01mm
Front carrier position can be adjusted along the linear guide rail in the worktable direction
Use Germany Rexroth closed-loop electro-hydraulic servo synchronous control system
Germany EMB oil tube connector
Germany Siemens main motor
France Schneider Electrics
Hydraulic and electrical overload protection
Upper are mechanical fast pinching dies. Lower are double-V replaceable dies
3. Safety Standard:
1.EN 12622:2009 + A1:2013 2.EN ISO 12100:2010 3.EN 60204-1:2006+A1:2009
Front protection device for protecting finger ( safe light curtain )
South Korea KACON Pedal switch ( 4 safety grade )
Rear metal safeguards and CE standard
Safety relay monitors completed with pedal switch, safety protection
Safety standards(2006/42/EC)
4. ITLAY ESA S630 CNC Control system :
Robosoft Electro-hydraulic ram-table parallesim and depth stop setting
*Pendant control panel with ESA -530S CNC system
*Backgauge on the ballscrews and stroke 600mm,programmable in 0.01mm
*Programmable automatic table crowing
*Quick manual system Top tooling clamping
*Table for system tooling
*2 sheet supports
* Foot pedal command
*CE safrty specifications
*Ruster ruler makes sure Y1 and Y2 is 0.01mm tolearance
*CE standard laser protection

Main features:
1) Overall welded and processed structure.
2) Closed loop control mode composed of electric-hydraulic servo
valve and measure ruler.
3) Ensure the highest control precision, bending accuracy and
repositioning accuracy are also reach to the highest level.
Back gauge mechanism can be multi-axes controlled.
4) Integrated hydraulic system decreases the pipe connections, oil
leakage, and increases the stability and overall beautifies.
5) Worktable equipped with hydraulic and mechanical compensation
to avoid the deformed upper beam from affecting the quality of the
work piece, it is automatically adjusted by the CNC controller with
convenient and accuracy.
6)CNC controller normally uses Holland DELEM, Italy ESA, Swiss
CYBELEC, all with multi-languages.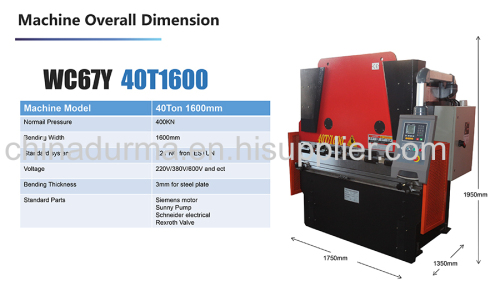 Technical parameters:
| | | | |
| --- | --- | --- | --- |
| NO | Name | Value | Unit |
| 1 | Nominal force | 400 | KN |
| 2 | Worktable length | 1600 | Mm |
| 3 | Distance between columns | 1200 | Mm |
| 4 | Throat depth | 200 | Mm |
| 5 | Slider strokes | 100 | Mm |
| 6 | The range of slider adjustment | 50 | Mm |
| 7 | Max open | 300 | Mm |
| 8 | Worktable height | 800 | Mm |
| 9 | Max pressure | 26 | Mpa |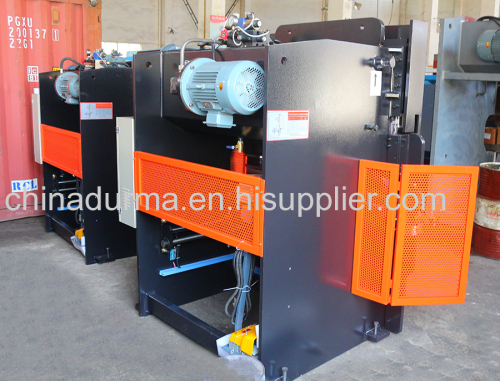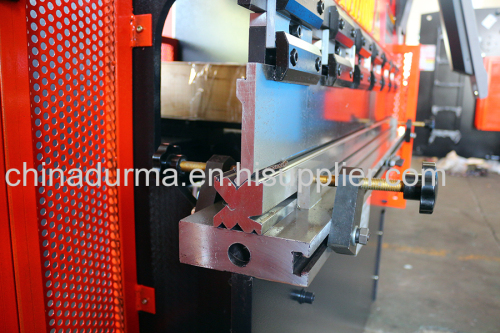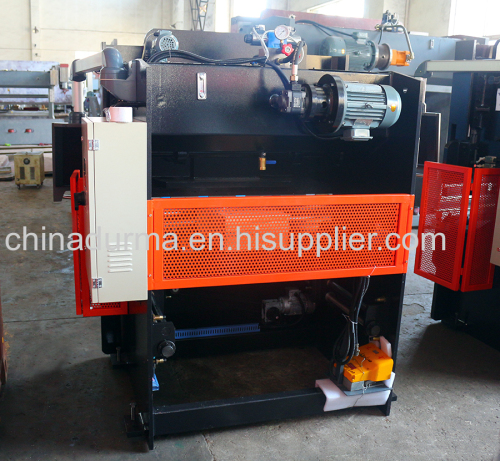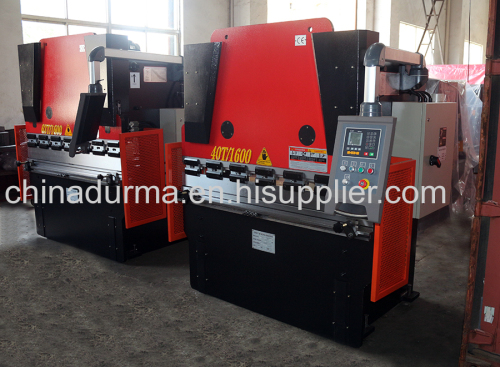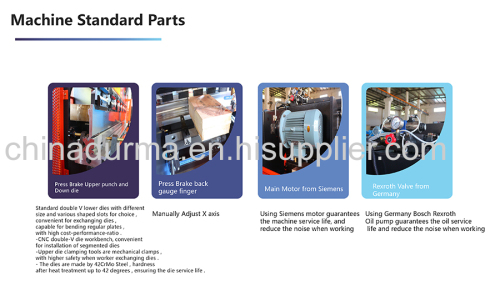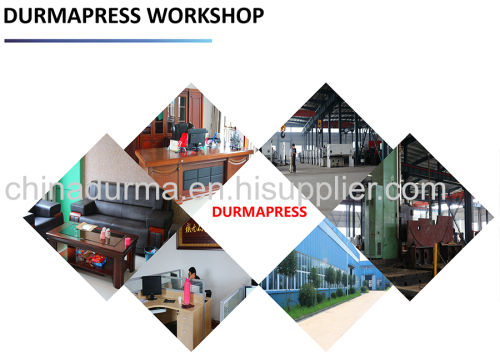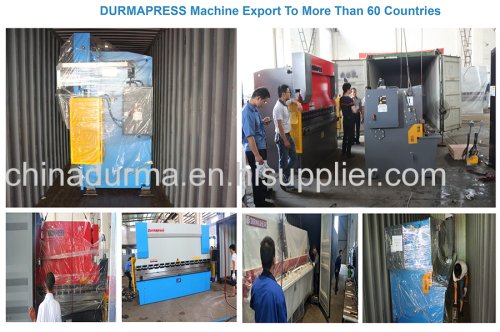 RFQ
*We have our own factory and brand; Our machines can match all the CE standard
or more strict ones.

*Quality assurance: 5 years warranty and 100% quality inspection before packing.

*Service:Impeccable after-sale service, and all your problem will be solved within 24 hours.

*Price: Can be negotiable according to the qty.

*MOQ:1 set.

*Howtovisit:You can fly to NanJing LuKou airport directly,you can also take high- speed train
to Nanjing South Station from other city in China.We will pick you up in the airport or Train
station.