Hennopack MPK-30K case erectors can finish the work of carton opening, shaping, folding and sticking adhesive tapes. Equipped with consistency system,it runs precisely and reliably. This machine provides an extremely secure sealing effect, without tape slipping problems.hot melt-glue system is optional.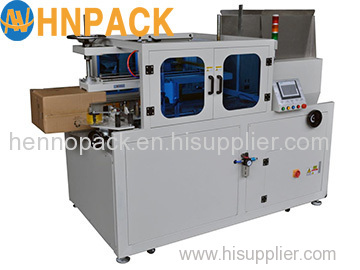 Technical specification
Case erector MPK-30K
MODEL:MPK-30K
Packing speed:25-30 ctns/min
Packing size(mm):L240-510*W190-350*H120-400mm.
Power supply:380V,220V 3∮, 50 / 60Hz
Power:750W
Applicable tape:48/60mm
Machine dimension:L2300*W1210*H1750mm
Machine weight:800KG
Security and alerts:
1.automatic warning reminder to add carton.
2. absorb cardboard is not successfully alarmed.
3. Carton unpacking failed to alarm.
4. The tape sticking is not successfully alarmed.
5. Alarm when running out of tape.
Note Safety: The device has a safety door, and the device stops running when the door is opened.
When any of the above 2, 3, 4, 5 alarms, the case erector stops running, and all alarms can be displayed on the man-machine interface, which is convenient for quick troubleshooting.
When you have more case unpacking machine problems or ideas,you can enter our web and we will discuss and solve the problem together.
Till now, Hennopack have formed a whole production chain with main products: Conveyor Equipment ,Carton Erector ,Carton Packing Machine, Carton Sealer ,Carton Wrapper Machine, Cellophane Wrapper Machine, Labeling Machine, Pallet Wrapper Machine ,Palletizer, Shrink Wrapper Machine, Shrink Film Packaging Machine ,Strapping Machine,
Weight Check Machine,Robot Automation Application System, Logistics Conveying System, Software management System .
We welcome any comments and questions you may have about our products or any other aspect of our business.
We value your feedback as we are always looking for opportunities to provide better service