SPC Floor Description
SPC floor sheet is composed by pvc resin, calcium powder and other additives, to produce various design of spc floor sheet.
SPC flooring tile can be widely used in bedrooms, halls, kitchens and toilets; office buildings, libraries, museums, shopping malls, restaurants, factories, schools, hospitals and other ground pavement.
Advantages of SPC Flooring Production Line

(1) 100% waterproof, suitable for any indoor area in addition to the outdoor use;
(2) The high environmental protection, zero formaldehyde, food grade;
(3) The fire rating Bf1 level;Highest standard for floor, applicable to fire control occasions with higher requirements;
(4) High strength wear resistant;
(5) The moistureproof prevent slippery, moth-proofing anticorrosive antibacterial;
(6) The foot feels comfortable, sound-absorbing the effect is good.
(7) The installation is simple, maintenance is convenient;
(8) Response real wood texture, can be adjusted according to need different colors;
(9) WPC floor there are risks deformation at room temperature under 0 ℃;
(10) SPC floor is suitable for the cold (-20 ℃) to the extreme heat (60 ℃) use of interior space.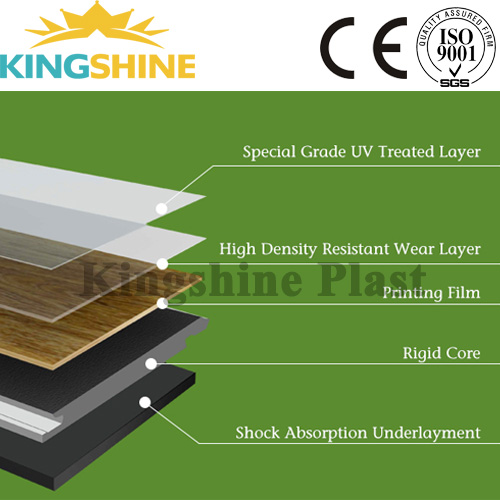 SPC Flooring Production Line Description

Main features of our SPC floor production line:
1.lower power consumption;
2.higher capacity;
3.Our machine adopt ABB inverter, Siemens motor, Siemens PLC, Schneider electric control system;
4.we can offer turnkey solutions of whole SPC Flooring Production Line Project.
High-end Electrical Components
Kingshine adopts high-end electrical components such as Schneider electric control system, ABB inverter, Siemens PLC, Siemens motor.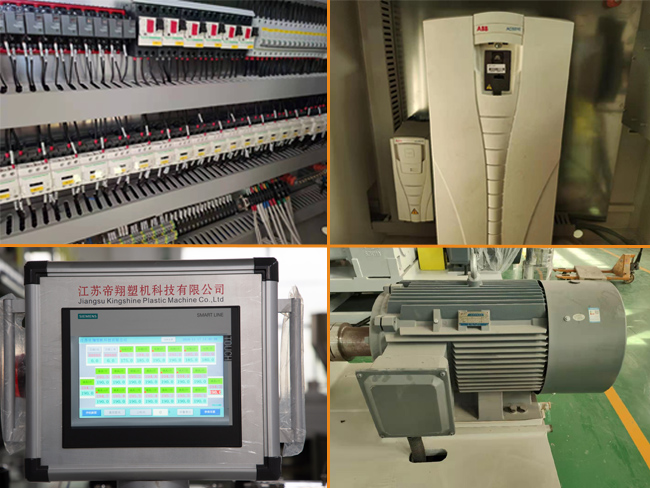 Four Roller Calander System
SPC flooring production line use horizontal 4 roller calander system, and this is a special design. Contrast to the normal vertical 4 roller type, the 4-roll not only greatly improves the production efficiency, but also enables the color film and wear-resistant layer to be more closely bonded to the sheet and increase their peeling strength.
The roller is heated by oil, so the color film and wear layer is bonded to the sheet by hot press without glue.
The first two roller is to control the sheet thickness, increasing sheet's ductibility and plasticization.
The third roller is laminating roller, our roller have a bigger design, and its diameter is 450mm. Contrast to other 400mm normal one, our bigger size laminating roller can increase the bonding area between the color film and the wear-resistant layer and the sheet, so that they can be more closely adhered together, and increase their peel strength.
The last roller is embossing roller, and the design can be changed easily.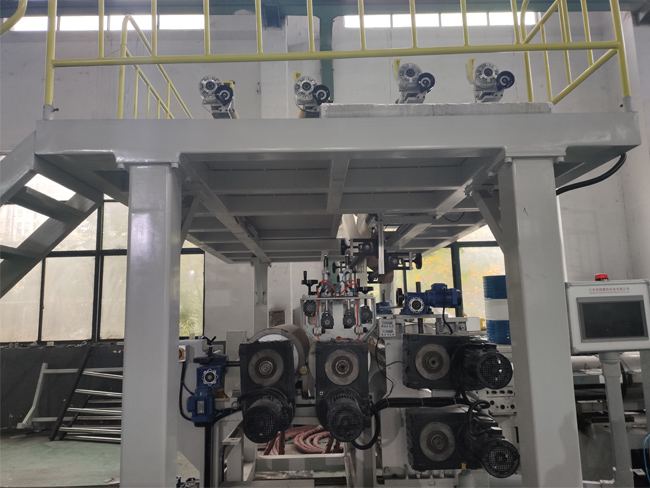 SPC Floor Production Process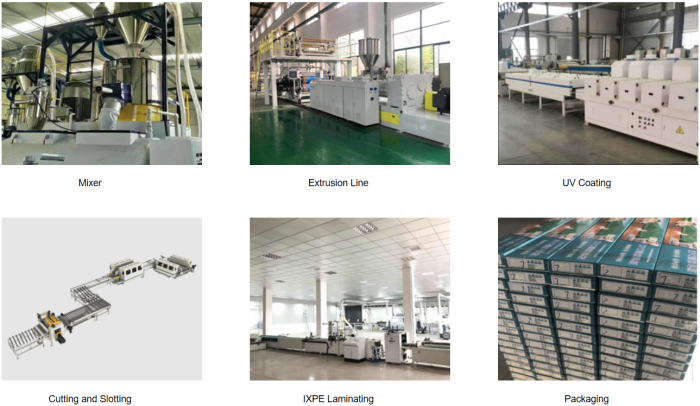 Parameters of SPC Floor Machine
| | | |
| --- | --- | --- |
| Model | 92/188 | 110/220 |
| Thickness (mm) | 2-8 | 2-8 |
| Width (mm) | 1050, 1350 | 1050, 1350 |
| Extruder Motor (kw) | 110 | 200 |
| Output | 15 t/24h | 30 t/24h |
Certification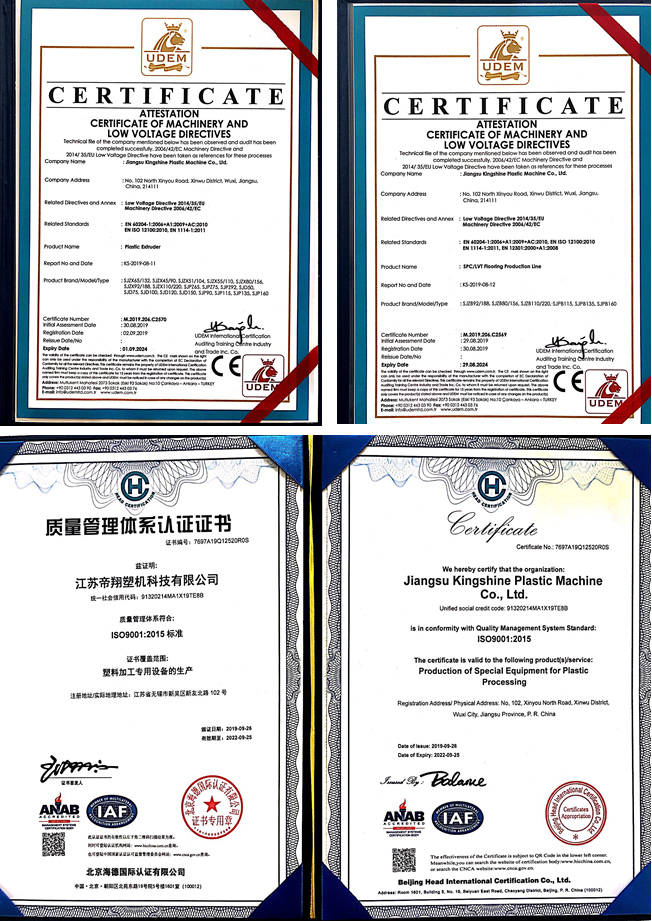 Our Company
Kingshine is one of the most professional plastic machinery manufacturing enterprises in China. The main production is PVC extrusion machinery:
1. SPC/LVT Flooring Production Line
2. PVC/WPC Door Board/Frame Production Line
3. PVC/WPC Foam Board Production Line
4. PVC Laminating/Marble Sheet Production Line
5. Mixer/Crusher/Miller
Kingshine pays attention to technological innovation, actively introduce advanced foreign technology, and constantly develop new products.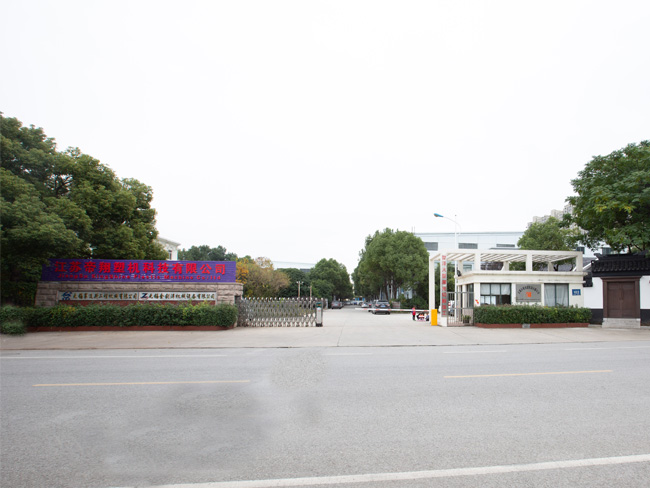 Our Service
1. Pre-sale service:
To provide information, market research and forecasting, provide consultancy, offers a variety of convenience and market service and so on.

Pre-sale service's main purpose is to assist the clients prepare the project planning and system requirements analysis, enable our products to maximize meet customer needs, but also to maximize customer investment play the comprehensive economic benefits.
2. After-sale service
1 Installation overseas
2 Provide all kinds of product formula, technology and chemical material manufacturer information
3 According to the customer's requirements, provide technical guidance
4 Technical training for employees of customers
5 Responsible for maintenance service, door to door service if necessary.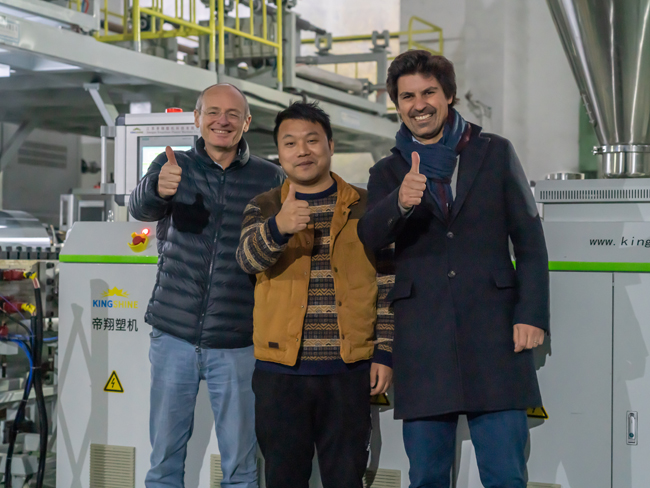 Contact Way