The seal equivalent to John Crane type 587 used for Andritz S series pumps SMT/TAN.
Size 38mm, 48mm, 53mm, 65mm
587 Mechanical Seals for Paper-making Equipment and other ANDRITZ
Operational Conditions:

Pressure: 0 ~ 2.5 MPa
Temperature: - 40 ~ 230 ºC
Linear Speed: 20 m/s or less
Materials:
Rotary Ring Face: Carbon/SiC/TC
Stationary Ring Face: SiC/TC
Elastomers: NBR/Viton/EPDM/Aflas
Springs: SS304/SS316/PH17-4
Metal Parts: SS304/SS316/SS316L
Mediums: l, water, sulphite lyes, paper pulp, alkali and other solvents.
Customization: Changes of materials for getting other operating parameters are possible. Contact us with your requirements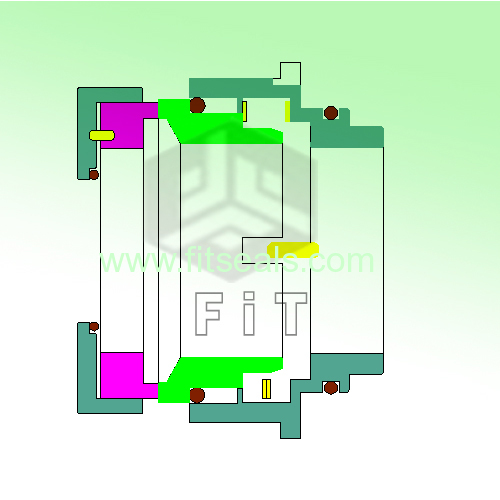 At All Seals we know down time is not an option. We specialize in hard-to-find seals
and demanding applications. With over 10 years of experience in supplying quality
replacement mechanical seals, we can help you identify the seal you need and
solve your sealing problem. Our technical staff is available to help you – just give
us a call. Our comprehensive stock of components ensures that we can build
almost any seal combination for same day shipment.
For more information, quick quotations, expert consultation and responsive customer
service call us at or send us a quote.
Can' t find what you' re looking for? No problem!
We carry a comprehensive inventory of mechanical seal components, which allows us
to build the right seal for your application. We'll even design custom seals for one-of-a-kind
applications.
Our goal is to make your repair easy without compromising on quality. Repair kits greatly
reduce costly downtime, saving costs while sustaining production. Our pump rebuild kits
are supplied with the same components you'll find in an OEM kit; however, we offer them
at a fraction of the price.
Need hard faces or specialty elastomers? Give us a call. We can quickly build a repair
kit to withstand any medium being pumped. You'll find All Seals' pump repair kits an
invaluable part of your operation.