garlic pro garlic dice
Make quick work of garlic with the Garlic Pro E-Zee-Dice, the world`s first no-touch garlic dicer. Just drop a couple cloves of peeled garlic into the Garlic Pro™ , twist and you`re done ! Get every bit of the fresh garlic taste you love right in the pan with no waste and easy cleanup !
Garlic Pro quick-chop secret
Say goodbye to your messy garlic press and hello to the Garlic Pro™ E-Zee-Dice. It`s the easy, mess-free and waste-free way to chop garlic. Garlic Pro`s secret is the twenty (20) stainless steel cutting blades that quickly dice garlic to your desired size. It`s like using twenty (20) professional chef knives all at one time !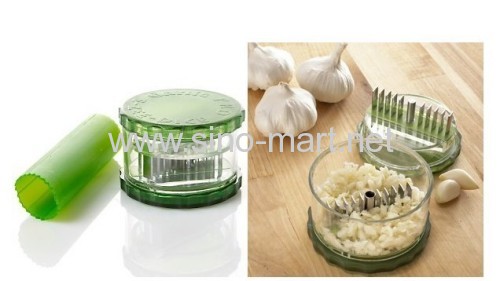 Garlic Pro chopper isn`t just for garlic
Use the Garlic Pro™ E-Zee-Dice to chop hot peppers, shallots, nuts and even sweets for sundae toppings. Now you can chop almost anything hands free with Garlic Pro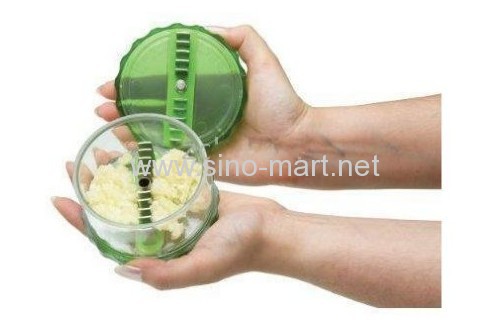 Does not crush or puree garlic
Large, 4 clove capacity
Twenty stainless steel blades
Dices garlic with a few simple twists
Garlic Pro
garlic pro garlic dice as seen on tv Love garlic, but hate the prep work? The Garlic Pro Dicer lets you add
your favorite fresh flavor to food without all the tedious peeling,
chopping, mincing and hand-scrubbing. The silicone peeler lets you roll
the peels away, and the amazing dicer chops up to 4 cloves at onceso all
that great garlic flavor goes into your food, not on your fingers!
GARLIC PRO DICER
The Garlic Pro E-Zee-Dice from Harold Imports \dices garlic perfectly
in seconds without crushing or pureeing garlic as conventional garlic
presses do. The Garlic Pro E-Zee-Dice dices up to four cloves at a time.
Simply place peeled whole cloves inside unit, rotate blades in opposite
directions to slice garlic, then rotate top clockwise to dice garlic to
desired texture. Finally, release garlic on to cutting surface or scoop
out for use.
Highlights:
Twenty stainless steel blades dice garlic perfectly in seconds
Does not crush, press or puree garlic
Also dices jalapenos, shallots, bell peppers and nuts
Rinses clean in seconds
Top rack dishwasher safe