WB3-25 tefloon front seal.
Filter seal used in below related equipment:
1.Chemical vertical pumps;
2.Chemical liquid filter;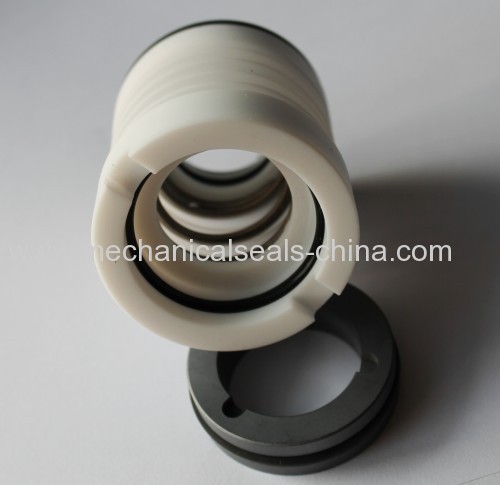 This Teflon bellow filter seal is in 25mm shaft size, used in filter pumps for plating and metal finishing system.

Operating conditions:
Temperature: -30~200
Pressure: ≤1.0MPa
Speed: ≤10m/s
A new seal assembly should be installed any time the old seal is removed from the pump. Do not attempt to separete the rotating portion of the seal from the shaft sleeve when reusing an old seal. The rubber bellows wll adhere to the sleeve during use and attempting to separete them could demaged the bellows.
Afirm resistance will be felt as the impeller presses the statioanry seat into the seal plate bore. As the statioanry seat becames fully seated, the seal spring compresses , and the shaft sleeve will break the nylon shear ring.

This mechanical seal, for industrial pump, with advanced designer & manufacturer of mechanical seal, the range involves in: industrial pump mechanical seal, mixer and agitator seal, cartridge seal, metal bellows seal, auto cooling pump seal and auto air-condition compressor lip seal. Our products can replace the mechanical seals and be widely used in petroleum, chemistry, refinery, paper making, pharmacy, power and auto industry.
The material can also be made an electrical conductor and has applications in resistance heating, flame igniters and electronic components. Structural and wear applications are constantly developingWe are specially produce kinds ofwater pump seal and we have good quality.If you are interested in our products,please just contact with us as soon as possible.