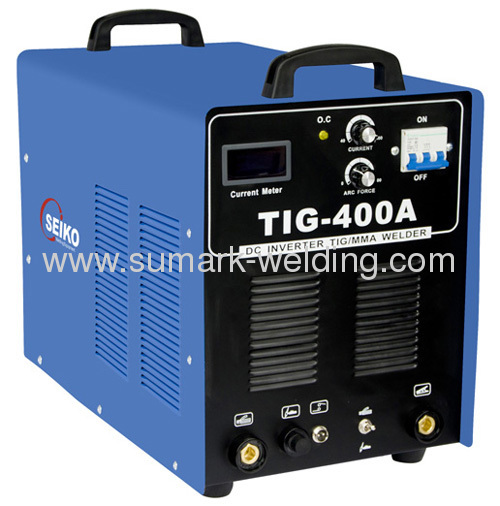 RILAND TYPE INVERTER TIG/MMA WELDING MACHINE INDUSTRIAL USE

Products Features:
1).TIG/MMA/ (V-MOS) Inverter Welder, both for TIG & MMA function.
2).Digital meter display, small size,light weight,hith quality construction and power saving.
3).High frequency DC TIG ignition, quick connect torch and gas fittings.
4).Automatic over-voltage and over-current protection, auto compensation for voltage fluctuation.
5).Smooth arc and stable welding performance,ideal for welding mild steel,stainless steel, copper and titanium.
6).High strength case construction for industrial applications.
7).Suitable for welding all type of acid and basic type electrodes.
8).Complete Accessories: Welding Torch with 4M Cable, Electrode Holder, Earth Clamp, Welding Mask.
Our Products have been sold in more than 30 countries & regions. We have been attached great importance to new products R&D, it has set up R&D center according to the international standard , also, we have been paying high attention to quality management system conform to ISO9001:2000 standard , most of our products conform to corresponding safety standards , such as CE , GS.


MODEL

Arc-Start Mode

Rated Input Voltage (V)

Input Capacity
(KVA)

Current Range
(A)

No-load Voltage
(V)

Duty Cycle
(%)

Protection Degree
(IP)

Usable Electrode
(mm)

Insulation Class
(H)

Packing Size
(mm)

Weight
(Kg)

TIG-315A

High Frequency

380/3Ph

23.5

10-315

65

60

IP21

1.6-4.0

H

560*283*495

26.0

TIG-400A

High Frequency

380/3Ph

26.0

10-400

65

60

IP21

1.6-5.0

H

560*283*495

28.0