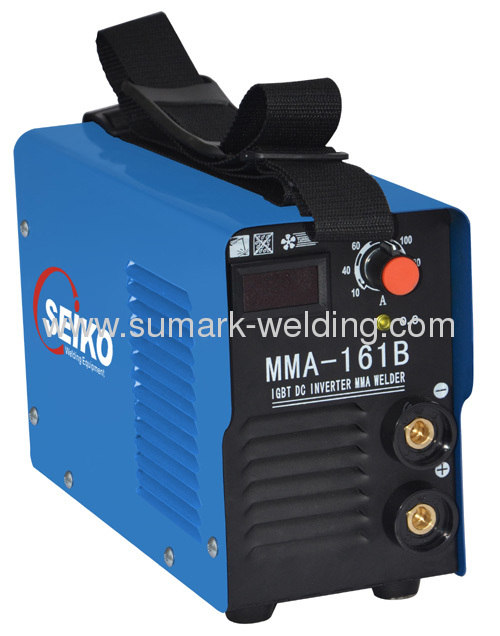 JASIC type IGBT INVERTER MMA WELDING MACHINE


Products Features:
1). Advanced IGBT inverter technology, greatly improves the reliability of the machine high duty cycle, greatly improves the reliability of the machine.
2). High duty cycle, greatly improves the efficieccy of the welder, emergy saving.
3). Easy starting arc, little spatter, stable current, and good formation
4). Automatic over voltage, over current and over heat protection function.
5). Power-saving design, small size, easy to carry out.
6). Widely use in in indoor decoration, and high working places jobs.
7). Complete Set Welding Accessories: Electrode holder, earth clamp, brush/hammer, welding mask.
Our products are strictly tested before delivery, and approved by CE Standar.
Advantages
We have been specialized in researching , manufacturing & exporting all ranges of Welding Machines & Welding Accessories. Our Products have been sold in more than 30 countries & regions, our main markets are Southeast of Asia, South America, European, South Africa & Middle-East Countries, our products have received a high reputation due to high quality & competitive price.
MODEL

Rated Input Voltage (V)

Input Capacity
(KVA)

Current Range
(A)

No-load Voltage
(V)

Duty Cycle
(%)

Protection Degree
(IP)

Usable Electrode
(mm)

Insulation Class
(H)

Packing Size
(mm)

Weight
(Kg)

ARC-161B

230/1Ph

6.0

10-160

62

60

IP21

1.6-3.2

H

360*220*310

5.0

ARC-181B

230/1Ph

6.5

10-180

62

60

IP21

1.6-3.2

H

360*220*310

5.5

ARC-201B

230/1Ph

7.8

10-200

67

60

IP21

1.6-4.0

H

360*220*310

6.0