product name NdFeB industry Neodymium Ring Magnets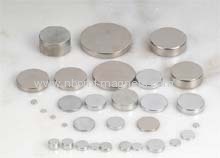 About Neodymium Magnets:
Neodymium magnets are one of rare earthpermanent magnets. Neodymium magnets are also known as NdFeB magnets, or neorare earth magnets. As its magnetic strength is very strong, people also simplycall it super strong magnets or super powerful magnets. The main elements ofthis magnet include neodymium (Nd), iron (Fe) and boron (B).
Magentic Properties
Grade

Residual Induction

Coercive Force

Intrinsic Coercive Force

Maximum Energy Product

Maximum Working Temperature

Br

Hcb

Hcj

(BH)max

Tw

mT

kA/m

kA/m

kJ/m3

[kGs]

[kOe]

[kOe]

[MGOe]

N35

1170-1220

≥868

≥955

263-287

80°

[11.7-12.2]

[≥10.9]

[≥12]

[33-36]

N38

1220-1250

≥899

≥955

287-310

80°

[12.2-12.5]

[≥11.3]

[≥12]

[36-39]

N40

1250-1280

≥907

≥955

302-326

80°

[12.5-12.8]

[≥11.4]

[≥12]

[38-41]

N42

1280-1320

≥915

≥955

318-342

80°

[12.8-13.2]

[≥11.5]

[≥12]

[40-43]

N45

1320-1380

≥923

≥955

342-366

80°

[13.2-13.8]

[≥11.6]

[≥12]

[43-46]

N48

1380-1420

≥923

≥955

366-390

80°

[13.8-14.2]

[≥11.6]

[≥12]

[46-49]

N50

1400-1450

≥796

≥876

382-406

80°

[14.0-14.5]

[≥10.0]

[≥11]

[48-51]

N52

1430-1480

≥796

≥876

398-422

80°

[14.3-14.8]

[≥10.0]

[≥11]

[50-53]

30M

1080-1130

≥805

≥1114

223-247

100°

[10.8-11.3]

[≥10.1]

[≥14]

[28-31]

33M

1130-1170

≥836

≥1114

247-263

100°

[11.3-11.7]

[≥10.5]

[≥14]

[31-33]

35M

1170-1220

≥868

≥1114

263-287

100°

[11.7-12.2]

[≥10.9]

[≥14]

[33-36]

38M

1220-1250

≥899

≥1114

287-310

100°

[12.2-12.5]

[≥11.3]

[≥14]

[36-39]

40M

1250-1280

≥923

≥1114

302-326

100°

[12.5-12.8]

[≥11.6]

[≥14]

[38-41]

42M

1280-1320

≥955

≥1114

318-342

100°

[12.8-13.2]

[≥12.0]

[≥14]

[40-43]

45M

1320-1380

≥995

≥1114

342-366

100°

[13.2-13.8]

[≥12.5]

[≥14]

[43-46]

48M

1370-1430

≥1027

≥1114

366-390

100°

[13.7-14.3]

[≥12.9]

[≥14]

[46-49]

50M

1400-1450

≥1033

≥1114

382-406

100°

[14.0-14.5]

[≥13.0]

[≥14]

[48-51]

35H

1170-1220

≥868

≥1353

263-287

120°

[11.7-12.2]

[≥10.9]

[≥17]

[33-36]

38H

1220-1250

≥899

≥1353

287-310

120°

[12.2-12.5]

[≥11.3]

[≥17]

[36-39]

40H

1250-1280

≥923

≥1353

302-326

120°

[12.5-12.8]

[≥11.6]

[≥17]

[38-41]

42H

1280-1320

≥955

≥1353

318-342

120°

[12.8-13.2]

[≥12.0]

[≥17]

[40-43]

45H

1320-1360

≥963

≥1353

342-366

120°

[13.2-13.6]

[≥12.1]

[≥17]

[43-46]

48H

1370-1430

≥995

≥1353

366-390

120°

[13.7-14.3]

[≥12.5]

[≥17]

[46-49]

35SH

1170-1220

≥876

≥1592

263-287

150°

[11.7-12.2]

[≥11.0]

[≥20]

[33-36]

38SH

1220-1250

≥907

≥1592

287-310

150°

[12.2-12.5]

[≥11.4]

[≥20]

[36-39]

40SH

1250-1280

≥939

≥1592

302-326

150°

[12.5-12.8]

[≥11.8]

[≥20]

[38-41]

42SH

1280-1320

≥987

≥1592

318-342

150°

[12.8-13.2]

[≥12.4]

[≥20]

[40-43]

45SH

1320-1380

≥1003

≥1592

342-366

150°

[13.2-13.8]

[≥12.6]

[≥20]

[43-46]

28UH

1040-1080

≥764

≥1990

207-231

180°

[10.4-10.8]

[≥9.6]

[≥25]

[26-29]

30UH

1080-1130

≥812

≥1990

223-247

180°

[10.8-11.3]

[≥10.2]

[≥25]

[28-31]

33UH

1130-1170

≥852

≥1990

247-271

180°

[11.3-11.7]

[≥10.7]

[≥25]

[31-34]

35UH

1170-1220

≥860

≥1990

263-287

180°

[11.7-12.2]

[≥10.8]

[≥25]

[33-36]

38UH

1220-1250

≥876

≥1990

287-310

180°

[12.2-12.5]

[≥11.0]

[≥25]

[36-39]

40UH

1250-1280

≥899

≥1990

302-326

180°

[12.5-12.8]

[≥11.3]

[≥25]

[38-41]

28EH

1040-1080

≥780

≥2388

207-231

200°

[10.4-10.8]

[≥9.8]

[≥30]

[26-29]

30EH

1080-1130

≥812

≥2388

223-247

200°

[10.8-11.3]

[≥10.2]

[≥30]

[28-31]

33EH

1130-1170

≥876

≥2388

247-271

200°

[11.3-11.7]

[≥10.5]

[≥30]

[31-34]

35EH

1170-1220

≥876

≥2388

263-287

200°

[11.7-12.2]

[≥11.0]

[≥30]

[33-36]

38EH

1220-1250

≥899

≥2388

287-310

200°

[12.2-12.5]

[≥11.3]

[≥30]

[36-39]

28AH

1040-1080

≥787

≥2624

207-231

220°

[10.4-10.8]

[≥9.9]

[≥33]

[26-29]

30AH

1080-1130

≥819

≥2624

223-247

220°

[10.8-11.3]

[≥10.3]

[≥33]

[28-31]

33AH

1130-1170

≥843

≥2624

247-271

220°

[11.3-11.7]

[≥10.6]

[≥33]

[31-34]