HDPE Drainage Eccentric Reducer Pipe Fitting
Eccentric reducer pipe fittings, also known diameter pipe, commonly known as the size of the head,
one chemical pipe fittings used to connect two different diameters.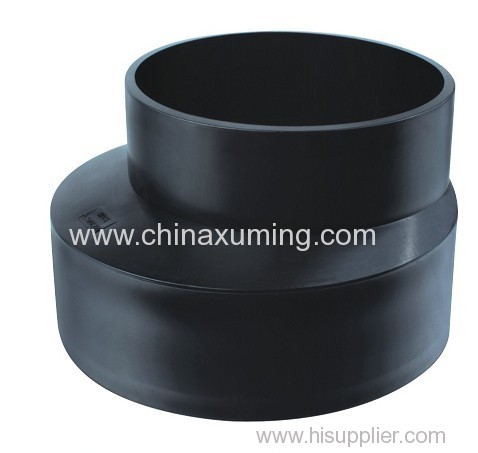 ***Classification
1, in accordance with the specification and use of the appearance of the two into concentric and
eccentric reducers reducers.
2, according to the classification of stainless steel material (304,304 l, 316,316 l), alloy steel,
carbon steel (20 #, Q235B, Q234, Q345),PE,PVC and so on.
3, according to the classification of connection diameter welded joints, the wire diameter connectors,
wire diameter joints.
***Production process.
Eccentric reducing standard: British standard and non-standard American standard seamless reducing
joint production:
Reducing joint is adjustable for a tube at Pipeline. Forming process commonly used to suppress necking,
expanding repression or suppression of necking plus expanding on certain specifications diameter pipe
may also be stamping.
1.Necking / expanding forming
Reducing the joint forming process is reduced in diameter with the diameter equal to the diameter of
the tube fitting into the big end of the mold in the axial direction along the tube press, the movement
of the metal and the contraction along the molding cavity. Depending on the size diameter pipe reducers,
divided into one or more press-forming press forming.
2.Stamping
In addition to the use of steel stamping Reducing joint production of raw materials, the specifications
on the part of reducers can also use steel using stamping process for production. Dies used in reference
to the shape of the inner tension Reducing the size of the joint surface design, the steel stamping die
cutting after stretch forming.
3.Roll
After the pipe is generally used for ventilation and dust reducers are rolled steel plate welded.
***Application
Reducing joint for pipe diameters need to change the place, so a wide range of purposes, mainly for
the dairy, food, beer, beverage, pharmaceutical, cosmetics, automotive, shipbuilding and other
industries and civil fields.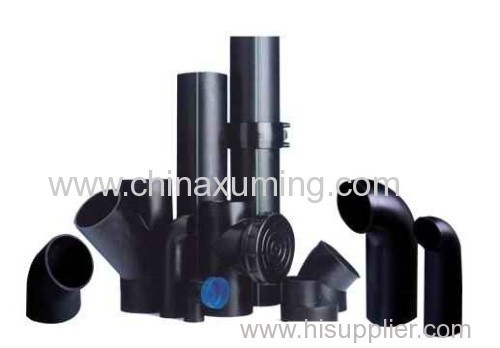 ***Specifications of HDPE Eccentric Reducer Pipe Fittings
Size
MOQ
Size
MOQ
63x50
500pcs
63x56
500pcs
75x50
500pcs
75x56
500pcs
75x63
500pcs
90x50
500pcs
90x56
500pcs
90x63
500pcs
90x75
500pcs
110x50
500pcs
110x56
500pcs
110x63
500pcs
110x75
500pcs
110x90
500pcs
125x90

500pcs
125x110
500pcs
160x110
500pcs
160x125
500pcs
200x90
500pcs
200x110
500pcs
200x125

500pcs
200x160
500pcs
250x110
300pcs
250x125
300pcs
250x160
300pcs
250x220
300pcs
125x63

500pcs
160x90
500pcs
315x200
100pcs
315x250
100pcs
***Our factory