HDPE Injection Siphon Sailing/Circulation Tee Fittings
Definition: sailing tee is a drainage path for vertical pipe connecting branch pipe and dry pipe although
the vertical connection, but the branch pipe into the dry pipe connections are not perpendicular, but with
a short arc sailing. flow connection, thus making branch pipe water flow is very smooth trunk of which
played a role in a short arc is sailing. different manufacturers design sails the size of the arc length
is different, but there must be sailing arc was called sailing tees.
Sailing and water-way, including water took over, influent and effluent takeover takeover vertical eccentric
connectivity, characterized in that the inlet pipe in the pipe extends along the axial outlet formed to
take over, forming a space between the inner wall and the water took over takeover .
Water conditions: 90 ° oblique tee> sailing tee, common materials: 45 ° oblique three metal materials
can also be plastic material, 90 ° oblique three metal, plastic tee so smooth.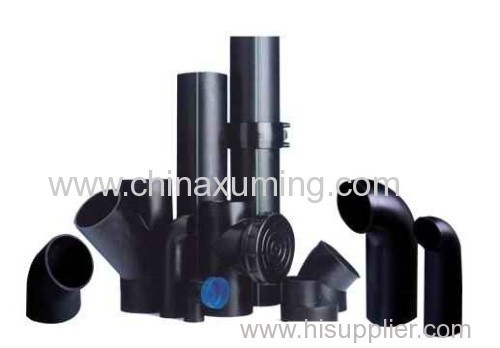 ***Birth siphon rainwater drainage system
Born in Europe, with its discharge capacity, consuming less pipe, small diameter, saving space
and reducing building ground excavation and other prominent advantages to the rapid development
and continuous improvement and improve on a global scale. In China, with a large span, large areas
of the growing number of all types of buildings, architectural space requirements are also rising,
after successfully applied in many factories, supermarkets, airports, exhibition halls and other
buildings on the train, siphon water system has also been developed rapidly, but also won the trust
of the majority Institute, has been actively promoting.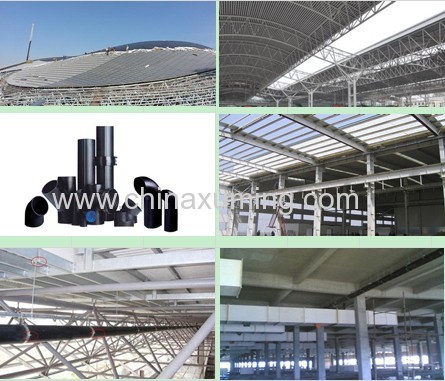 ***Advantage of PE Siphon Drainage Circulation Tee Pipe Fittings
1. Roof water bucket flexible distribution;
2. Suspension pipe slope is not required, saving installation space;
3. Greatly reducing the number of risers;
3. Flexible conduit to facilitate construction deal;
4. Reduced pipe diameter of 1/2 to 2/3, to save material;
5. Fast drainage pipe with a self-cleaning function, not blocked;
6. Process is simple, fast construction;
7. Can save considerable renovation and construction costs.
***Specifications of HDPE Circulation Tee Pipe Fitting
Size
MOQ
Size
MOQ
50x50
1000pcs
75x50

1000pcs
75x75
1000pcs
90x50

1000pcs
90x75
1000pcs
90x90
1000pcs
110x50

500pcs
110x75
500pcs
110x110
500pcs
125x110

500pcs
160x110
500pcs
160x160
500pcs
200x110
500pcs
200x160
500pcs
***Expoer to the following countries