Rose hips P.E.
Botanical Source: Rosa canina
Used Part: Fruit
Specification: 5%-10% Ascorbic Acid (Vitamin C)
10% 20% 30% polyphenols
Appearance: Violet fine powder
Test Method: TLC
Bulk density: 0.35-0.75g/mL
Moisture:<5%
Ash:<5%
Description:
Rose hips are usually orange to red in color. They are round in shape. In some species dark purple and even black fruits are found. The red ones of them look like small tomatoes. The wild grown rose hip fruits contain more vitamins than the cultivated ones.
Rose hips are mainly found in parts of Asia, Europe, and Africa. Nowadays rose hips are cultivated almost all over the world, creating the suitable conditions for its cultivation.
Rose hips contain vitamin C in a large amount, 40% more than oranges also. Rose hips also contain vitamin B-complex in high quantity, and even vitamin A and C, calcium, and iron. Researchers found hints of potassium, silicon, sulfur, and magnesium in rose hip fruits.
Function:
1. Anti-oxidation, preventing skin aging and protecting the brain and nerve tissue from oxidation.
2. Strengthen the spleen and helping digestion.
3. Improve blood circulation, boosts metabolism, and monitors the menstrual cycle.
4. Treatment of patients suffering from knee or hip osteoarthritis.
5. Protect against cancer.
6. Protect against cardiovascular disease (CVD).
7. Treatment of influenza-like infections, diarrhea
8. Diuretic and laxative and treatment of various urinary tract disorders
Application:
1. Applied in food field
2. Applied in health product field
3. Applied in pharmaceutical field
Packing&Storage:
Package:Double plastic bag inside, aluminum foil bag or fiber drum outside.
Delivery Detail:Within one week
Storage: Stored in a clean, cool, dry area; keep away from strong, direct light.
Shelf Life:Two years when properly stored.
Supply Ability:
a. Production capacity: 1000kg/month, large stock available;
b. Supplying conventional and customized plant extract products
Producing Process:
Plant==>Raw Material==>Extraction==>Filtration==>Cool Down==>Spray Dry(much methods to dry) Into Power==>Sifter Powder==>Packing
Advantages:
1. Small order is acceptable
2. Free sample for you
3. Have self-export rights
4. Have right to do commodity inspection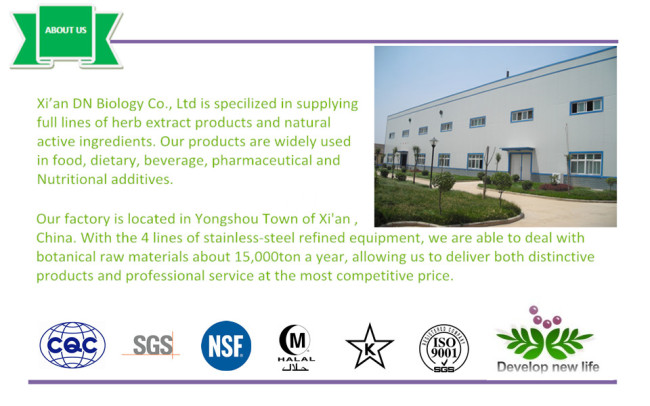 Our Commitment
At DN biology, we strive to exemplify professionalism and leadership in the herb extract and natural botanical ingredients industry by exceeding the expectations of the people we serve. This is achieved through diligent attention to detail and strict adherence to deadlines.
For a closer look, please visit our website: www.dnbiology.com
Our Mission Statement
To be an industry leader providing first class service to buyers and clients by meeting their needs and exceeding their expectations through honesty and reliability, resulting in long lasting sustainable relationships.
The factory: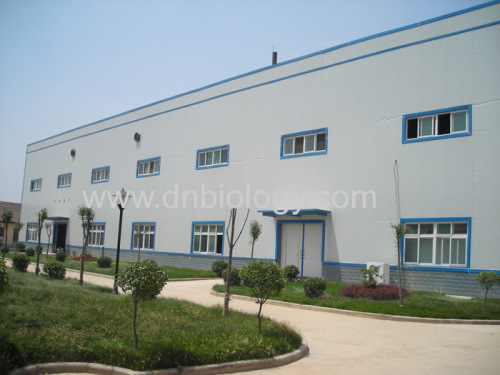 The interal figure of factory :