Characteristics
1, F Series reducer combined with international technical requirements for manufacturing, with high
technological content.
2, Space-saving, reliable and durable, to withstand high overload capacity, power up to 90KW or more.
3, F series parallel shaft helical gear reducer low unit energy consumption, superior performance, speed
reducer efficiency up to 95%.
4, Small vibration, low noise, high energy, high quality section steel, steel, cast iron box, gear surface after
high-frequency heat treatment.
5, Through precision machining, to ensure the accuracy and positioning axes parallel, all this constitutes a
gear reducer assembly configured the various types of motors, forming a mechanical and electrical integration,
fully guaranteed product quality characteristics.
Product Image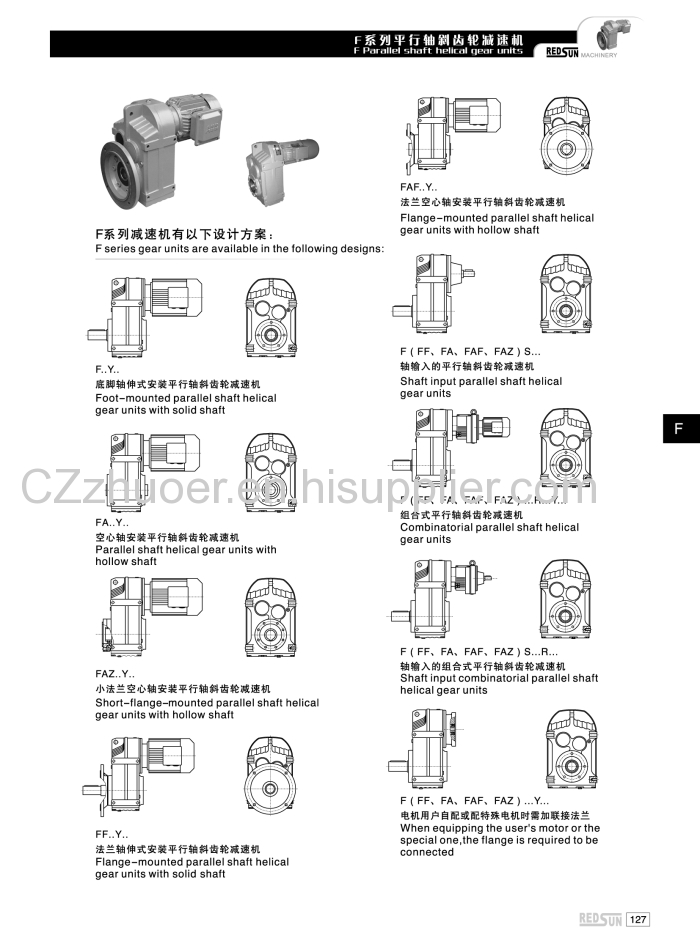 Our Services

(1) Promise to delivery on time
(2) Large output torque
(3) Safe, reliable, economical and durable
(4) With excellent quality
(5) Reasonable price
(6) Stable transmission, quiet operation
(7) High heat-radiating efficiency, high carrying ability
(8) Certificate of quality ISO9001:2008
(9) Every product must be tested before sending
(10) Made of high-quality aluminum alloy, light weight and non-rusting
(11) Large output torque.
(12) Smooth running and low noise.
(13) High radiating efficiency.
(14) Good-looking appearance, durable service life and small volume.
(15) Suitable for Omni bearing installation.
Application
Industrial Machine: Food Stuff, Ceramics, Chemical, Packing, Dyeing,
Woodworking, Glass