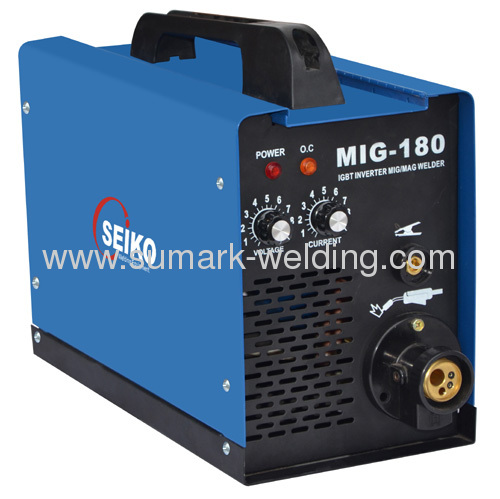 IGBT INVERTER MIG/MAG WELDING MACHINE

Products Features:
1).Single -phase, protable, fan-cooled wire welding machine for flux(no gas)and MIG/MAG(gas)welding.
2).With thermal protection, complete with MIG welding accesseries.
3).The kit for welding different types of materials such as steel, stainless steel.
4).Suit for weld steel and aluminum etc.
5).Come with Complete Accessories: MIG Welding Torch with 4M Cable, earth clamp, welding mask.

Model

Rated Input Voltage

(V)

Rated Power

(KVA)

Connection Cable/ Fuse delayed

Load Capacity

40℃


Open Circuit Voltage

Welding Range

Weight (Kg)

Packing

Size

(mm)

MIG-150P

230

6.9KVA/150 35%

60% 5.3KVA/120A 100% 4.2KVA/100A 2.5MM2-S-3.3m/16A

150A/21.5V 35%

60% 120A/20V 100% 100A/19V 22-31.0V

40-150A/14-22V

12.5

465x210x360

MIG-180P

230

8.6KVA/180 25%

60% 5.3KVA/120A 100% 4.2KVA/100A 2.5MM2-S-3.3m/16A

180A/23.0V 25%

60% 120A/20V 100% 100A/19V 15.5-42.5V

40-180A/14-23V

13.0

465x210x360