PPR Female Tee for PPR Pipes


ppr fitting: ppr female tee

Application Area:

1. Cold and hot water systems of residence and commercial buildings.
2. Transportation of industrial water supply and chemical materials.
3. Pure water pipe system.
4. Piping networks for rainwater utilization systems.
5. Irrigation systems for gardens.
6. Transportation system of drinking water production.
7. Piping networks for solar plants.
8. Other pipes in industry and agriculture.

Characteristics of PP-R Pipes
1. Well heat resistance ability
The pipes can be used for a long time while the working temperature of water is 70°C. They can be used for a short time while it reaches 95°C. The softening temperature is 140°C.
2. Well insulation ability
The thermal conductivity of PP-R pipe materials is very low compared with steel and copper pipes.
| | | |
| --- | --- | --- |
| Type of Materials | Thermal conductivity | Unit |
| PP-R pipes | 0.21-0.24 | w/mk |
| Steel pipes | 43-53 | w/mk |
| Copper pipes | 333 | w/mk |
3. Long life span
Under normal conditions of temperature and pressure, PP-R pipes can be used for over 50 years.
4. Little resistance for water flow
The inner walls of PP-R pipes are smooth and limescale will not be formed there. The wear resistance factor is only 0.007, considerabally lower than the matel pipes. The ability for carrying water for PP-R pipes increases by over 30% than the metal pipes with the same size.
5. Environmental
During the process of production, construction and use, PP-R pipes will not make any pollution to the environment.
6. Economical
The price for PP-R pipes is almost the same with the galvanized pipes. With convenient construction, they are more cheap.
7. Light weight
The density of PP-R pipes is 0.89-0.9g/cm, only 1/8 of the steel pipes, 1/10 of copper pipes. The light weight will reduce the transportation cost and the construction intensity.
8. Healthy
The materials of PP-R pipes are formed with just two elements, that is, Carbon and Hydrogen. The sanitation performance of the materials has passed the examination by the government authority.
9. Well corrosion-resistance
Except for few oxidents, the pipes can endure the erosion of many kinds of chemical materials. The pipes will not be rusted, get eroded, breed the growth of bacteria.
10. Little expansion force
The flexible moludus of PP-R materials is small. So the expansion force formed with the change of temperature is little. They are suited for the installation of inside walls and concealed foor construction.
11. Complete accessories
PP-R pipe system have a full set of accessories and can meet the requirements of general project.
12. Solid connection
PP-R pipe system adopts the hot-welding way for connection. The pipes and fittings are linked together The tensile, bending and impact intensity at the interface is bigger than the pipe intensity, avoiding the hidden danger of water leakage.
Size (mm):
20x1/2"
20x3/4"
25x1/2"
25x3/4"
32x1/2"
32x3/4"
32x1"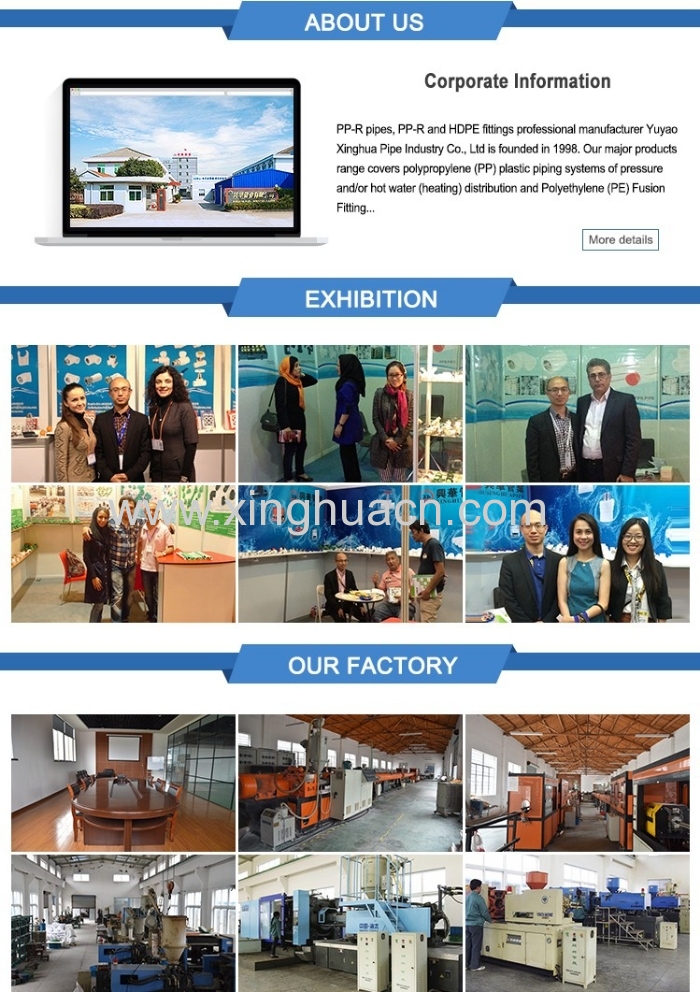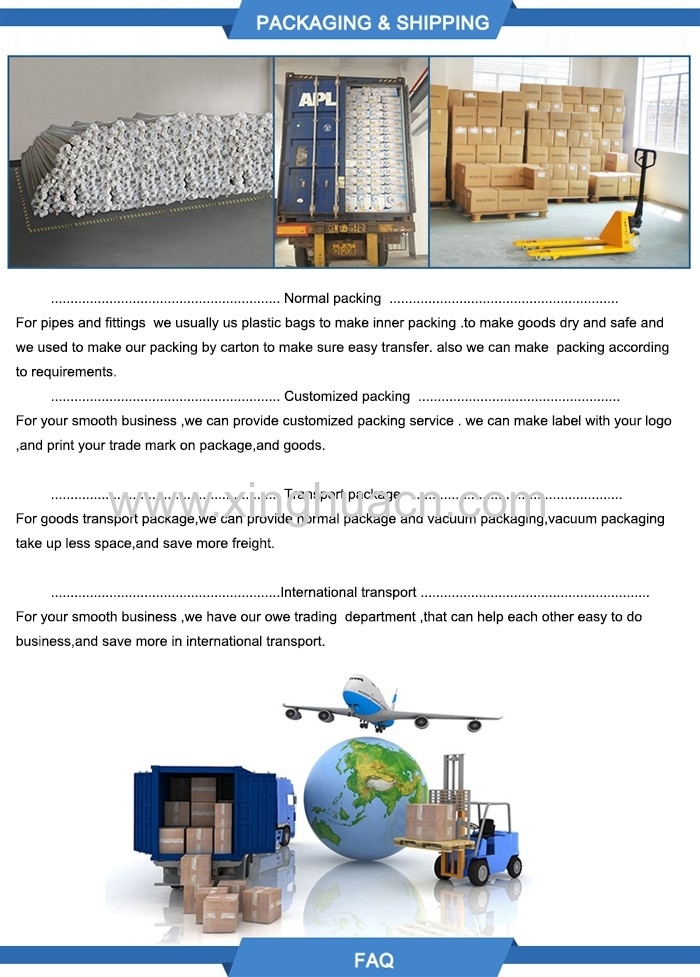 FAQ:
Q:What products you are specialize in producing?
A: We are a manufacturer specializing in producing PP-R, HDPE pipes and fittings and valves since 1998..
Q: what is the standard you are performed?
A: we are a leading supplier for water and heating system certified by EN ISO 9001:2008, and our products performed German standard DIN8077/8078.
Q: Can you produce any colors? How is the ODM and OEM?.
A: We can produce any colors that you need, ODM and OEM both are available for us.
Q: The price of your products is higher than others.
A: We can't promise you the best price, but we can promise you the best quality. We import row material from famous companies such as LG Chemical, Iydellbasell, Chervrom, Sinopec.
Q: What is the mainly products for pipe fittings?
A: It is contains PPR pipe, fiberglass pipes, ppr-al-ppr plastic pipes ,PPR coupling, elbows, tee, reduced tee, valve , ball valve, radiator valve ,filter valve, cross, plug, socket, flange ,pipe clamp, adapter union, bypass bend, cap. tools, accessories and the others.
Q: Where is your factory located in?
A: Our factory located in Yuyao City, which is only 1 hours away from Ningbo seaport and 2 hours Shanghai seaport.
Q: Can you provide us some samples for testing?
A: Of course, we are glad to offer free samples just only need you bear the freight .
Q: How is our customer service?
A: all our sales representatives can speak fluent English. all your concerns will be received our careful attention and prompt reply.