RFC Series Stunner Power Supply INSTRUCTION MANUAL
I.Notes

1. Firstly thanks so much for choosing our product, be sure to read this manual before using and
safety keeping. Thanks.
2. Please be careful handing the machine, to avoid collision.
3. Follow the installation instruction to conduct construction
4. Follow the instruction, operating step by step
5. Do not open the cover, to avoid electric shock and machine damage.
6. Please keep it clean and tidy.
7. Do not put the machine in humid, muggy and direct sunlight place.
8. Do not put the machine in the place where is with corrosive liquid or gas, dust , conductive fibers
or many metal fines.
9. Don't set the machine to the place where with serious vibration or electromagnetic interference
10. Avoid put and transportation upside-down and avoid strong impact.
11. Please refer to the abnormal handling, if there occurs abnormal phenomena
II.Power system Principle
Principle: RMC series motor power supply, take microprocessor as the core to make MPWM, design
the active component IGBT module design, adopt the digital frequency division D/A conversion ,
instantaneous value feedback, Sine pulse width modulation technology, to make the single capacity to
reach 400 kva, to increase the stability of the whole machine by isolation transformer output. It has a
strong adaptability to load. The output waveform quality is good, easy to operate small size, light
weight, It has the characteristic of short circuit, overflow, overload overheat protection function to
ensure the power supply in reliable running.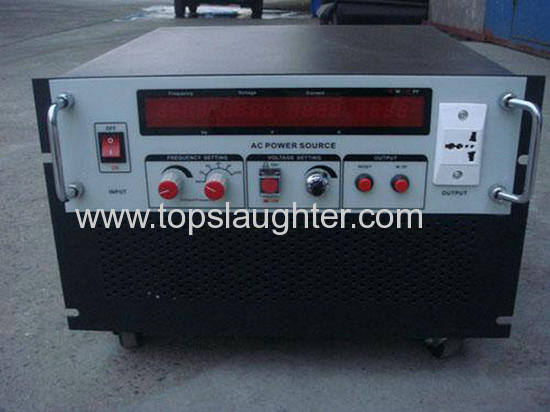 III.Power capacity Selection system
1. Resistance: power capacity = 1.1× load power
load start current
2. Power capacity = ────────── ×load power
Rated load current
Load current wave
current crest factor
3. Rectification: power capacity = ────────── ×load power
1.5
4. Mixed type: Please according to the proportion of different load properly selected
IV.Power panel explanation
1.output frequency display: digital display output frequency to one decimal place
2.Output voltage display:digital display output voltage value
3.Output current display: digital display output current value
4.The output power and power factor show: digital display the output power value and power factor
value.
5.Output power display.
6.Output Power Factor
7. Input power switch
8. Output voltage adjusted knob
9.Reset:Frequency conversion power start button; Or for frequency conversion power tripping, when
the alarm rang, you can press this button to restart
10. Power and power factor switch button . Through this button can convert the Active power and
power factor display
11.Output power switch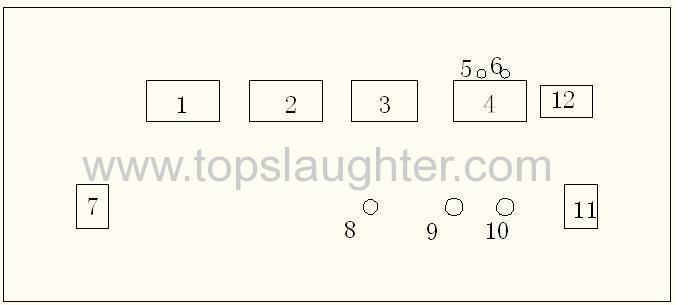 V. Operation Instruction
1. Before using, please check the control switches, knobs, monitor adequacy.
2. The first power switch to the OFF position.
3. In order to ensure the safety of the device, connect the power supply before re-determine the input voltage is correct.
4. Set the input and output cables connected according to specifications.
5. Turn on the "7" power switch, after about 3 to 5 seconds, the internal relay pick-up , then press the Reset button "9", now voltage output.
7. Standard voltage adjustment: rotate 10 cycle to fine turning knob
"8", get the your desired voltage.
8. Press the output switch "11", the voltage output connected, for the back-end workload.
Note: the machine is accompanied by over current, overload and short circuit protection device, when
the overflow, overload or short circuit, protect circuit to immediately cut off output power, buzzer alarm,
and now please close the load at this time. The output voltage then to supply after the alarm stops,
please check the load condition, if no abnormal, restart load switch
VI.Specification
Model ※ RFC-400WT
Output capacity ※ 400W
Circuit Type ※ (IGBT)MPWM Pulse Width Modulation
Input voltage ※ 220V±15%
Input frequency ※ 50Hz/60Hz±5%
Output voltage ※ 0~110V continuously adjustable
Output frequency ※ 400.0—800.0 Hz continuously adjustable
Road regulation ※ ≦1%
Frequency stability ※ 0.01%
Wave Distortion ※ ≦2%
Efficiency ※ ≧85%
Output meter:
※ frequency meter: 4-digit RMS digital frequency meter, resolution 0.1Hz
Volmeter : 4-digit RMS digital voltage meter, resolution 0.1V
ammeter :4-digit RMS digital ammeter, resolution 1mA
Power meter :4-digit RMS digital ammeter, resolution 0.1W
Power factor meter:4-digit RMS digital display, resolution 0.001
Protective device ※ Overload, short circuit, over-voltage , over-current protection and alarm device
Dimension(W x H x D)※ 440 x 470 x 350( mm )
Working Environment ※ temp-10~40℃ relative humidity0~90%
VII.Abnormal Handling

Problem occurs

Reason

Solution

Q1:unable to open

(1), input circuit

1.Check the power line, plug and socket,
whether they are loose

2.Check the input fuse whether in good condition,
if problem, please change.

Q2: if buzzer alarm, but「RESET」not available

(1Short circuit occurs
when output connected to the load equipment

(2)RESET failure

(3)Poor ventilation causing the machine
temperature increases

(1),check and correct it

(2),change RESET button

(3),Remove the machine to the well ventilated place.

Q3,The output frequency is normal,but the voltmeter and
ammeter shows "0", while
warning tone sounds

(1), over current

(2), short-circuit protection

(3), for other reasons

1) reduce the load current

(2) Check whether the output is shorted

(3) Press Reset to restart

Q4,Abnormal sound occur

when the vent fan

Foreign object fall into the vent hole
and stuck the fan

Clear the foreign object

Any other problem or condition, please feel free to contact us.