Technology Design for Poultry Processing Plant Live Birds Area (V)
1. Exhaust for Birds Hanging Working Station
Each work station should be set exhaust outlet, to ensure staff healty.
2. Poultry Stunning
WSPA requires stunning takes place after birds hung on the overhead conveyor line for 12s and stop flapping their wings. And the time is not more than 1min, from the first hanging position to the electrical stunning position. But RSPCA requires that, after Jan. 1th 2010, the time is not more than 30s, when chicken hung upside down before stunning. It seems that high suspension line from hanging to stunning use direct form is the the developing trend. Stunning is a critical point to the regulation requirement, where high frequency waterbath stunning method is an effective way. Stunning time reference as follows: chicken below 8s, ducks about10s, goose about 12s. Bloodletting process after stunning within 10s.
3. Killing
3.1 Mechanical Slaughtering.
3.2 Manual Slaughtering. Two kinds of killing method: oral and neck. The height form the shackle bottom to the ground: 1450-1600mm for chicken, 1539-1680mm for ducks, 1700-1850mm for geese. Skilled workers can slaughter chicken by manual about 2000 per hour. Considering winter and summer shift, two working station will be added more than calculated ones. If use oral slaughtering , the shackle bottom need to set a little bit higher. From the stunning position to the killing position must be controlled within 10s.
4. Bleeding
From the view of biology, the sooner, poultry enter to the scalding process after killed, the better for feather plucking. And the bleeding time is longer, and rigor mortis phenomenon is more serious. Considering nearly 10& of chicken not be killed effectively, the design principle of shortest distance of production line and the time from bleeding to the frozen not more than 2h, the bleeding time is confirmed as follows: 2.0-3.5min for chicken ,3.0-4.0min for duck and goose. The broader concept of bleeding stops before pre-chilling. Therefore, it is no need to consider time extension problem of bleeding in winter and summer.The phenomenon of black spots on poultry meats occurring is mostly related with stunning technique, not bleeding time.
Blood collecting tank can be civil or made of stainless steel. The distance from bleeding line to the wall is not less than 800mm. The blood accounts for 8% of the live poultry weight; Outlet blood accounts for 6% of the whole live bird weight, where most blood flow out during 30-40s. In order to prevent blood coagulation, it needs to set salt water spray pipe in the bleeding tank, and use blood pump to convey blood to the storage tank. Bleeding room can use scrapper to concentrate blood to the storage tank and timely collect to the blood processing room.
Use 82C hot water to sterilize knife and tools, at least once per hour. The temperature of hot water used for cleaning ground is not less than 40C. Un-stunned poultry must be separated with dead poultry.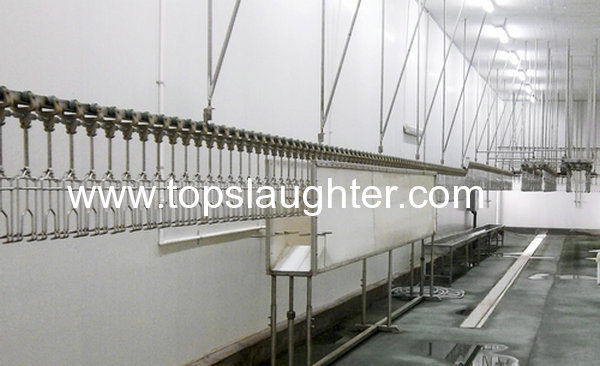 Slaughtering Machinery High Frequency Water bath Stunner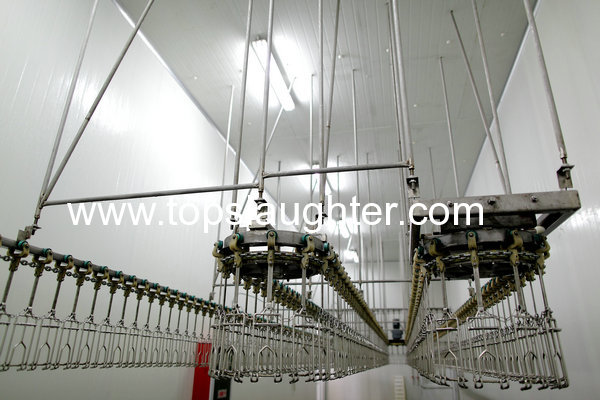 Poultry Processing Machinery Bleeding Line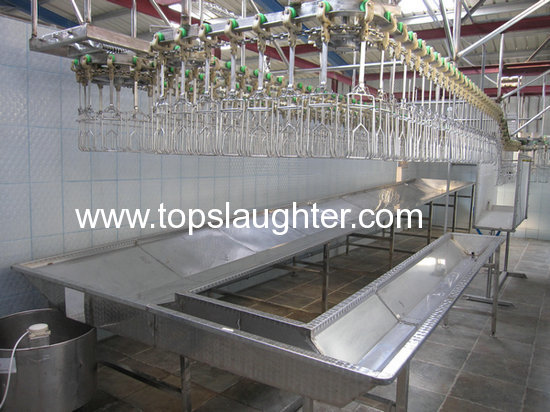 Chicken Processing Machinery Bleeding Trough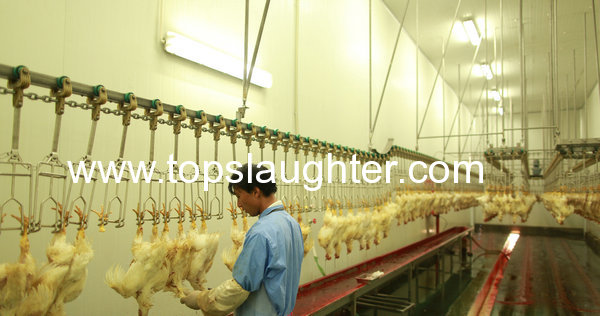 Poultry Processing Plants Chicken Slaughtering Equipment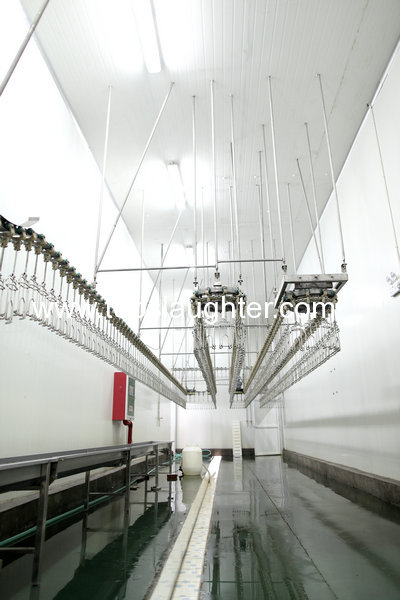 Chicken Processing Plants Chicken Slaughterhouse Equipment