Six level intelligent parking system
Working Principle
Equipment for more than six layer column layout, each device partition of one to five layers of a transverse space.Rise and fall of the floors of equipment load through the six layer action, the horizontal movement of the floors of a layer of load, the rise and fall of the floors of second to five floor load, transverse mobile access car for implementation.A layer of parking Spaces can directly access the car;Second to the sixth floor of a parking space need access to the car, the loading plate just below the corresponding floors of each load shifting the position of a parking space, will be open to need to access the car plate below, make the plate can be dropped to the ground, so as to achieve access to the car.
Characteristics
1, equipment cover an area of an area small,high space utilization, reasonable decorate columns according to userrequirements.
2, according to user requirements designedfull packing type, half packing type, simple packaging and without packaging,and other forms of packaging.
3, low equipment cost, d premiums with low.
4, smooth running, low noise, convenientaccess to a car.
5, prevent fall, one car go, vehiclesuper-long under-voltage alarm, lack of phase, over current, power self-locksafety protection, emergency stop, etc.
6, automatic PLC control, using the button, ICcard, remote control and other control mode, the operation is simple.
Applicable occasions
The equipment, for the ground parking equipment is suitable for residential, commercial center, office buildings, railway stations, hospitals and other places.
Technical requirements:
1, the ground must be reinforced concrete, for the pillar and expansion bolt
2, must be flat on the ground, to ensure its high and low difference within +/-5mm;
3, equipment needs a clear height of 3600 mm or more (this size to deduct all equipment such as fire fighting pipe, ventilation pipe net space height);
4, equipment in outdoor, should set up canopy
Product Details
Suitalbe parking cars
model
Large car
Car size
Length×width×height
(MM)
≤5000×1850×1550
Car Weight
≤1700Kg
Requirement Space
a(MM)
5900
b(MM)
3250
c(MM)
1130
h(MM)
1700
H(MM)
h*p+3600
N(MM)
2450
Net height(MM)
≥5300
Motor power
Lift motor
2.2kw,3.7kw
Sliding motor
0.2kw
Rated speed
Lift speed
4.8,7.0m/min
Sliding speed
6.4,9.5m/min
Drive mode


motor,chain
power


3 phase 5 wire 380v 50HZ
Control mode


Button,IC card and remote conteol system
Surface treatment


Painting galvanized
Lnner width of pallet


2080
Product Show: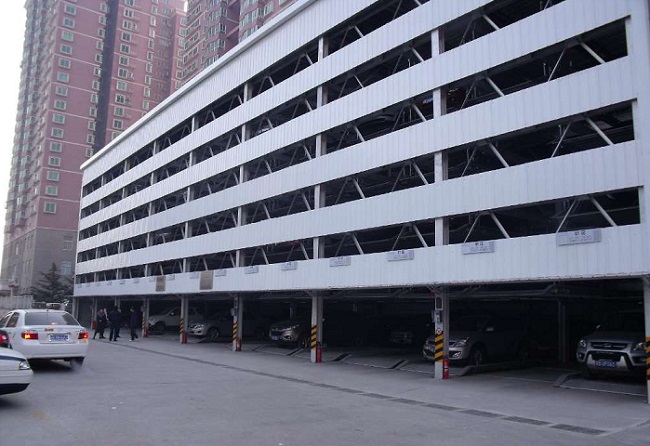 Six level puzzle intelligent parking system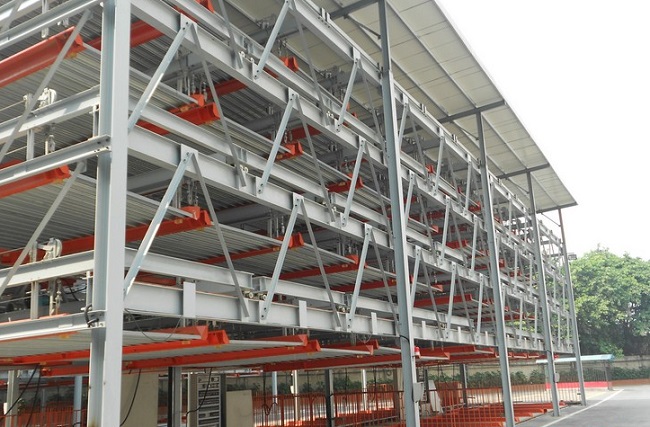 Six level puzzle mechanical parking system
Six level lift-sliding mechanical parking system