Operating principles of four storey automatic parking garage:
The car carrier plates on top layer of this equipment can lift or fall; the carrier plates on the second or third layer can lift or fall, or move horizontally; the carrier plates on bottom layer can only move horizontally; one empty space is left on the second, third or bottom layer, its position can be changed by moving the car carrier plate, thus the car carrier plate over this empty space can fall to bottom. The car on the bottom carrier plate can be directly accessed.
Characteristics:
1.Increase the utilization of limited space.
2. Automatic PLC control, easy to operate, and convenient access. Optional control mode: button/key, touch screen or IC card.
3.Steel rope lifting type, stable and reliable running, high safety of car lifting.
4.Anti-falling device, safety and reliablity, capable of avoiding any falling accident.
5.Photoelectric detection, control of car size and parking position,and realize the sequenced parking work of cars.
6.Photoelectric safety detection, can avoid any wrong person/car entry and ensure the safety of parking garage.
7.Emergency stopping button, capable of avoiding any unexpected accident.
8.Usually closed electromagnetic brake, capable of automatic stopping in case of power cutoff, and ensure the car safety.
9.Famous brand steel materials, high-quality paint spraying. International famous brand electronic control elements, and ensure the high safety and long-time durability of parking equipment.
Product Show: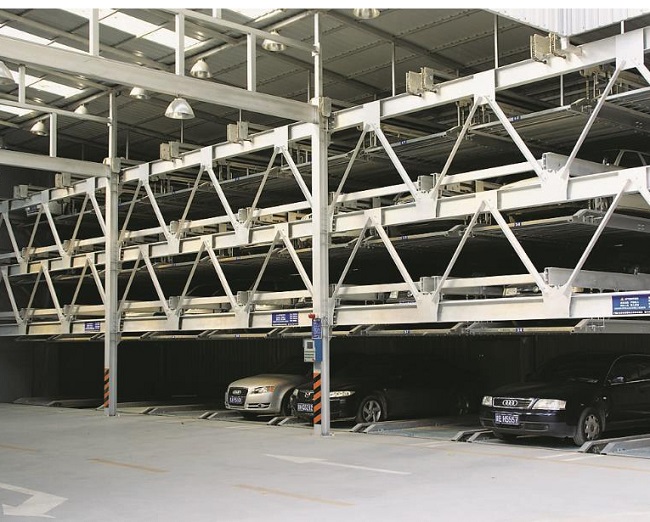 Hospital four-storey automatic parking garage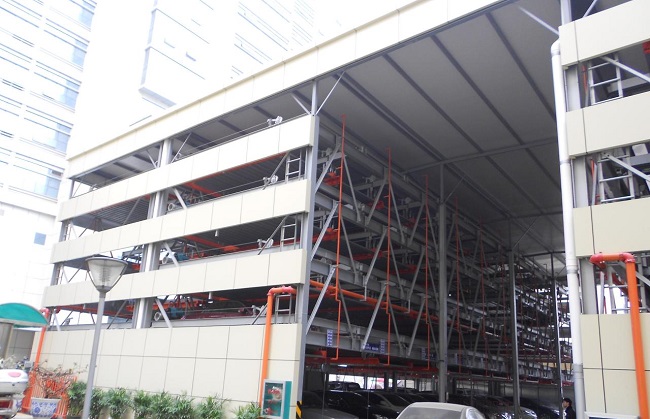 Office building four-storey automatic parking garage
Outdoor four-storey automated parking garage